PROMOTIONAL RAINCOATS
Promotional Raincoats As Gift for Customers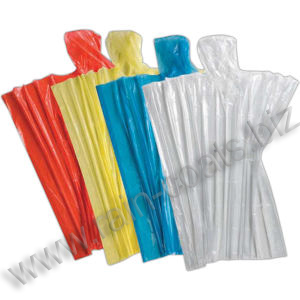 It is helpful to take a disposable raincoats along with you for all outdoor events. Compared to the raincoats which can be worn all year round and which are inconvenient and clumsy, disposable promotional raincoats are so much lighter that when well packed, they are no bigger than your purse.
Disposable Promo Raincoat
A disposable promotional raincoat can be packed in a small bag or a small box and this mini package with a raincoat inside can be put in your handbags, taken here and there, in case of a rainy day.
Raincoat as Promotional Product
A mono-color disposable rainwear may be plain and a little peculiar to wear. But when printed, or branded, it becomes the fashionable and promotional disposable rainwear in the rainy world.
The plastic film of disposable raincoats is ideal to be printed with any image in all sizes. A raincoat has a printable area of about 100cm*100cm. Companies like promotional disposable raincoats, because they are one of the companies' best promotional items.
Giving these fun promotional disposable raincoats away to kids or to your clients who have young families, you convey a refreshing and innovative company identity.

 Promotional Raincoat From Gifts Service
Our company is one of leading disposable rainwear suppliers. We offer a great selection of rain ponchos in both adult and child sizes as well as the plain or printed, one-off or reusable rain ponchos
Our plain or printed raincoats are available in a range of fun colours and are great for camping, sporting events, outdoor festivals or to simply take out for the day. Use our printed promotional raincoats as an excellent way to promote your brand, company logo or message in any weather. If you are planning an outdoor event and need a unique way to get your message across we can help you to source the right rain poncho to make your promotional advertising work!
Therefore we welcome trade enquiries from marketing companises and from the corporate sector for larger quantities of our economic promotional rainwear.