PROMOTIONAL DOOR MATS
Door Mats with Logo for Company Promotion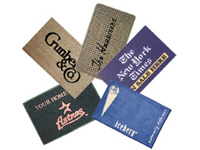 Promotional door mats are one of the most essential room accessories for any type of premises where people go in and out.so, promotional door mats have a great advertising effect. Dirt, dust, liquid beverages, oil, harmful chemicals, etc., are foreign objects that get inside the place easily. These things are absorbed on the concrete floor and can leave stains. These stains accumulate germs, which can be very harmful to people. That´s why you need to have promotional door mats. However, door mats is used not just to trap all the dirt particles and keep them from getting inside the house. A piece of good looking carpeting can contribute greatly to the interior design of the house and company entrance, particularly to the doorway where it is placed.
Different Material for Promotional Door Mats
As a promotional door mats supplier, thousands of door mat shops and carpet stores found us and have becoming our loyal customers. And we are able to provide you with various kinds of premier and quality promotional door mats including indoor door mats, outdoor door mats from different materials like PVC, coir, rubber, polyacrylonitrile, vinyl, polyester, plush or polypropylene.
Promotional Door Mats with Your Company Logo
Promotional door mats with your company logo can be a very effective part of an advertising campaign, exhibition or general point of sale location. With near photographic image reproduction, promotional door mats can be personalized without design limitations. Custom imprint door mats acts like a horizontal billboard – successfully maximizing a product or company's potential by utilizing the floor to reinforce your company's messages.
Promotioanl Door Mats at Company Entrance
Generally promotional printed door mats are used as entrance mat. It is usually placed in front of the door creating a good impression on the users as people usually look down on the carpet when they step on it. Nowadays every company is trying to expand their advertisement in different ways. And using promotional printed door mats is the proven way of promoting one advertisement in a cost effective way. Just placing a logo of any brand or company can be of great advantage. It is a powerful tool to send a company message to the consumer with less effort. It can be placed anywhere in the house, office, industrial place with high traffic and can attract the attention of people more easily.