Customized thermal mugs as promotional gifts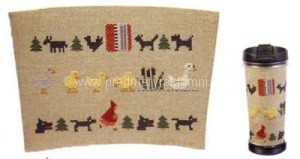 We present to you this promotional items that are manufactured and printed easily and at the same time are very original and impressive. These customized thermal mugs are at very reasonable prices and will satisfy even the most tight budgets. They are ideal for promoting your business. They offer a large area for printing, making them great for promotional items and gifts. Giving away such thermal mugs with your logo on them to your clients or colleagues, you will get their attention every morning while drinking their coffee or tea!
Promotional thermal mugs
Below you can see our suggestions for different thermal mugs print designs. You can select one of these models or contact us and we can produce personalized thermal mugs specially for you. You choose!
Plastic thermal mugs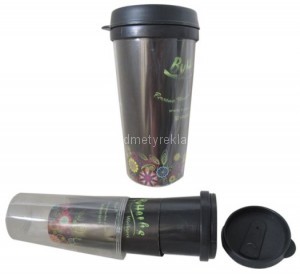 These plastic mugs are unique and a really original promotional gift for any kind of business events. Plastic thermal mugs have a transparent double-wall body that can therefore be fitted with a removable seal according to your requirements.
Material: plastic
Dimensions: 18/8 cm
Weight: 200 grams
Volume: 450 ml
Minimum order: 500 pieces
Price: contact us
Thermal mugs with handle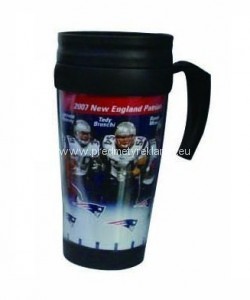 Promotional mugs can be customized with a practical handle. These thermal mugs with loose prints are a useful promotional product that will be appreciated by any client or colleague of yours. They are made of a double-wall quality plastic. They are easy to assemble and the print can be changed easily.
Material: Plastic
Dimensions: height 17 cm, diameter 8,5 cm
Weight: 187 grams
Volume: 400 ml
Minimum order: 500 pieces
Price: contact us
Transparent customized thermal mugs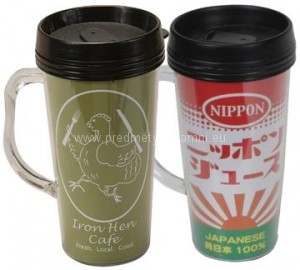 These thermal mugs look really great. They are made of a transparent body with double wall, between which different print designs can be easily inserted and changed.
Material: plastic
Dimensions: height 16.5 cm, Ø 6.35-8 cm
Weight: 190 grams
Volume: 450 ml
Minimum order: 500 pieces
Price: contact us
Mugs with stainless steel lid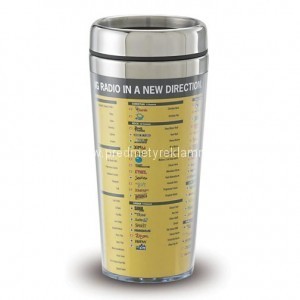 These thermal mugs`s body is made of high quality plastic, and the lid – from stainless steel for even greater strength. The changing the print and design is extremely easy and fast too -just disassemble the plastic body and ready. Try it yourself!
Material: stainless steel 18/8 and plastic
Size: about 16.5 to 18 cm, about 8.25 cm-Ø6.35
Weight: 330 grams
Volume: 350/450/500ml
Minimum order: 500 pieces
Price: contact us
WHY CUSTOMIZED THERMAL MUGS?
low price
no restrictions in printing – logos , designs, patterns, colors – everything is possible!
large area for your ad
your logo is always on display
variables promotional items – easy to change the theme
practical and effective ad unit
Are you interested in our offer and would like to advertise your company or brand using promotional customized thermal mugs ? Please contact us for offer via e-mail :