HAWAIIAN LEIS WHOLESALE
Hawaiian Leis Wholesale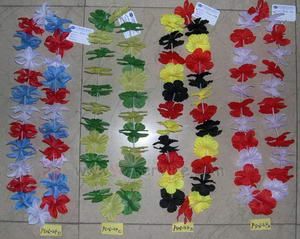 Welcome to Gift-Service, we offer wholesale service of hawaiian leis wholesale. It is ideal for promotional idea.
The Real flower leis Wholesale in Hawaii
are necklaces made of fragrant flowers strung together and traditionally used to say hello, goodbye, thanks or to celebrate nearly anything in Hawaii. Hawaiian hula leis are beautiful and very special to Hawaii. They are generally only found in Hawaii. Because of this, many people try to buy leis after returning from their Hawaii vacation to help remember the great time they had in Hawaii.
The leis in Hawaii are usually made out of real flowers. The Real flower leis, or fresh flower leis, have a limited life. It can keep for only a very short time and is a little bit expensive.
Meanwhile, maybe you have no plans to actually travel to Hawaii but are planning a Hawaii luau theme party. So You will certainly need plastic Hawaiin leis for your party.
Our Hawaiian Leis become cool promotional items for outdoor events such as picnics, concerts and paty.Wholesale Hawaiian Leis less expensive.
inexpensive Hawaiian Leis Wholesale
Therefore, the plastic Hawaiian leis are a really inexpensive Hawaiian Leis alternative for you. We provide plastic Hawaiian leis, sometimes called "Synthetic Silk" Hawaiian Leis for custiomize wholesale. In truthfulness, we have a wide range of plastic available with Hawaiian leis.
Regardless, plastic Hawaiian Leis are great for themed parties, kids, parties, or for quantity purchase.
Hawaiian Flower leis Wholesale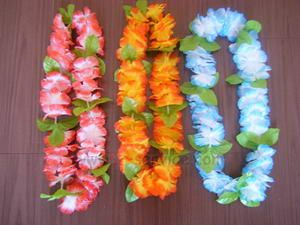 Wholesale Hawaiian Flower Wristband