CUSTOM MADE PU ANTISTRESS BALLS
Custom Made PU Antistress Balls
We can personalise all our antistress PU balls and items with quality custom made printing. Select from our standard custom made antistress PU balls in a variety of colours. Low cost custom made antistress shapes include a series of sports themed stress relievers such as soccer custom made PU  balls. We've got plenty of other PU balls shapes to pick from such as our fun animal range of chicken stress toys
Order Your Custom Made PU Balls
Below you can find some examples of the design which can be produced for you. If you are looking for something different, just contact us and we will be happy to produce your custom made antitress PUL balls.
Custom Made Antistress Smiley PU Balls
This model antistress ball is a classic and will surely be appreciated by each customer or business associate, who you present this amusing promotional and advertising gift to. Custom made balls can be made in 5 colors: yellow, orange, red, blue and green.
Material: PU (polyurethane)
Dimensions: Ø 6.5 см
Weight: 22 g
Minimum order: 100 pieces
Price: contact us
One-color Antistress PU Balls as Customer Gift
These simple stress balls are available in basic colors like white, yellow, orange, pink, red, purple, light blue, blue, light green, green, black. Custom balls are the perfect gift for each customer, regardless of age or interests.
Material: PU (polyurethane)
Dimensions: Ø 6.5 см
Weight: 22 g
Minimum order: 100 pieces
Price: contact us
Custom made promotional antistress balls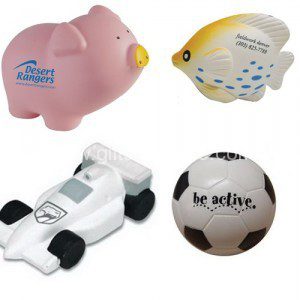 We produce antistress PU toys and balls in all shapes, sizes, colors and printing regarding your wishes and needs. Promote your business with ease by giving away these custom made antistress balls.
Material: PU (polyurethane), PVC
Dimensions: order
Print: Pad printing, transfer printing
Minimum order: 1000 pieces
Price: contact us
Choose Desing for Custom Made PU Balls
How custom PU balls are made with printing? In printing logo, slogan or image on antistress balls is recommended to use two basic methods. The first and most widely used is a tampon printing process, where in the 2D images are transmitted on the 3D objects. The second method of printing transfer printing. These custom made PU balls can be any shape and size as you want.
Are you interested in our offer and would like to advertise your company or brand using custom made antistress PU balls to order? Please contact us now for further information of PU balls.
PROMOTIONAL ANTISTRESS BALLS
Promotional Antistress Balls and Other Products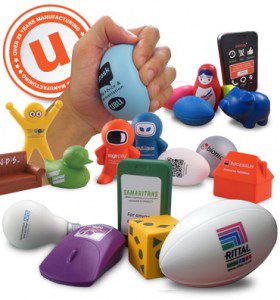 Promotional antistress balls are a big hit on the market of promotional items at the moment and are offered in a very wide range of shapes and colors. They easily attract the eye, have really low prices and offer a large area to print any logos, slogans or images. That's why we suggest that you contact us in order to create your ideal, customized specially for you antistress balls to distribute to colleagues and clients. Popularize your company and business with promotional anti stress balls.
Why Promotional Anstistress Balls?
With the increasing fast-paced life style now, more any more people feel big pressure especially the ones who work at office. They need to release. And our promotional antistress balls are a best choise for them. With the fast recovering feature and it's accepted by more and more poople.
novelty designs
very well shaped material – polyurethane foam (safe material: non toxic and soft for child)
wide usage – good as kids toy and promotional gifts for customers
any sizes and shapes (any OEM shape and size is welcomed)
highly resistant – can squeeze to resist compression
glossy surface and bright colors
solid with hand feel, squeezable
OEM logo printed on surface of ball
popular by children, and it's best choise for promotion
Promotional Antistress Balls and Products
Promotional antistress balls and toys are essential marketing products that any company can take advantage of using. We have a great selection of fun keyring antistress toys like the sheep antistress toy keychain, tyre anti stress ball keychain, little man stress toy keyring and the floating novelty anti stress keyring. Print your company information directly onto any of our promotional antistress shape products and show off your company at trade shows and conventions by using them as gift
bag merchandise products.
PU ANTISTRESS PRODUCTS MANUFACTURER
PU Antistress Products Manufacturer
We are a professional and high quality manufacturer of PU antistress products. We offer production of anstistress products in any shapes, sizes and colours. With professional technology, work teams and advanced machines, we, as a leading anti stress products manufacturer have become a reliable partner for our customers and getting good reputation with our excellent quality, on time delivery, and reasonable prices.
Professional Antistress PU Products Manufacturer
With many years' experience in manufactur antistress PU products, we possess very professional technology in this field. Our up-to-date technology equipment and raw materials as well as our own dying plant, printing department and a dedicated sales team, allow us to compete in the worldwide market.
PU Antistress Products Materials
In the production of an antistress PU products is used almost 100% of the high-quality polyurethane. Polyurethane is a polymer produced by polyaddition of diisocyanates and two – or polyhydric alcohol to give a carbamate (urethane bonds), and is widely used in all branches of industry. Polyurethane is used for the production of soft foam balls and other PU antistress products. Additional material for the production of an antistress balls are PVC material.
PU Anstistress Products Manufacturer and Other Merchandise
At our promotional merchandise website you will find not only the same high quality antistress PU products but plenty of other corporate gift items and promotional ideas to choose from. We can personalise your promotional merchandise with print or engraving.