PROMOTIONAL IDENTIFICATION WRISTBANDS
Promotional identification wristbands for your event!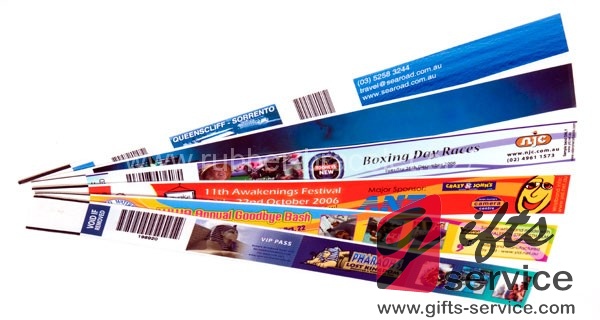 An identification wristbands sometimes refers to promotional wristbands or custom identification wristbands. Identification wristbands are classified as one-off identification wristbands and recycling identification wristbands. It can be one time use or reusable. Identification wristbands are always used for large-scale events and activities. Besides, identification wristbands are ideal for festivals, shows, play centers, concerts, night clubs & bars, hospitals, sporting events, hotels resorts, private parties, birthdays, water parks, theme parks, fairs and so on. Our identification wristbands are created of fine, high quality, what means your wristbands, will be hard to tear, they won't mind to go for a swim and won't break during a long time concert.
Why Promotional Identification Wristbands from us?
free samples
promotional identification wristbands in your own design
promotional identification wristbands in any color and fashion design
promotional identification wristbands in any sizes available on request
delivery time less than 19 days.
materials: Paper, Plastic, Fabric, Tyvek, Vinyl
Promotional identification wristbands printed with your company's logo or text will be your next hottest sales item. Promotional identification wristbands can be a kind of promotional gifts or giveaway to promote your business. Promotional identification wristband is an excellent method of visually identifying your paying guests and customers.
Promotional Identification Wristbands for your Next Event!
Identification wristbands are light, convenient and comfortable to wear. Promotional identification wristbands are applicable to festivals, hospitals, parties, hotel resorts, pubs, special occasions etc. Identification wristbands are used for admission control and identification. Our promotional identification wristbands are one time use and no reusable.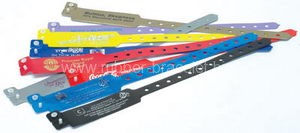 All promotional identification wristsbands can provided in any colors, any printing and any sizes and can be branded your own design and logo. Please check above information of our most popular types of identification wristbands.
We offer small and large quantities in all our event bands. This will allow you to order as many or as few as you need. You can design the wristbands with your company phrase and logo in any colour you choose.
Are you interested in promotional identification wristbands? Do not hesitate to contact us for any questions, quotation or order.