Price is always being one of the considerations to choose a promotional item to advertise a company. Whether it is a big well-built company or an infant one. You may have a product with a dope quality or still giving your consumers the same products but with an alternative material. For example replacing silicone with rubber. Beside silicone rubber materials, there are also rubber products made of PVC or other types of plastic. It makes the materials' cost for production lower. So, the final products' price is also lower. But, your consumers still having the same products in hand. One of the best practical advertising items is a wristband. We provide your company a custom silicone bracelet with a premium quality as you can see here. But, we are also offering a custom rubber wristband. It certainly comes with a nice quality compared to our competitors.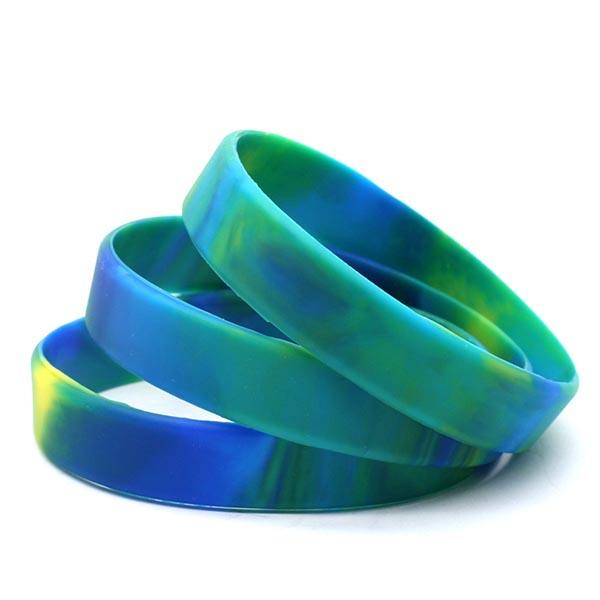 The Advantages of Custom Rubber band
The difference in raw material for those rubber bands is what distinguishes the difference in selling prices from the silicone bands. But, there are still several advantages we can get from the rubber wristband, such as:
Custom silicone Wristband Design
A rubber band design choices are various! You can choose a rubber band that has a picture or embossed lettering or picture and also printed or screen printed text or images. You can see that there is almost no difference between a rubber wristband and the silicone one in creating the design for the band.
Rubber Band Colors
You may also choose the option of full color or various colors band, or glow in the dark rubber band that can burst its shine in the dark. The choice of a particular color for the rubber band can be a symbol that is relevant for a group activity. For example, the choice of a green rubber band as a symbol of reforestation activities. In which has a purpose to increase the environmental awareness. The same one also apply for the silicone bracelet. Both of those wristbands can bring some positive messages according to their colors, for example:
pink as the support of the collection for research and prevention of breast cancer, also comes in dark blue.
white as to support for the fight against poverty.
light blue which symbolizes support for the fight against child bullying.
black is to symbolize the fight for racial equality.
orange as to symbolize the support for maternity centers.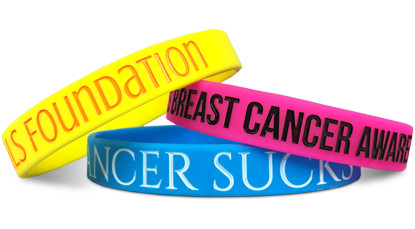 Attractive and flexible
custom rubber wristband are very attractive and flexible. The manufacturing process is also easy. Moreover, if your targeted segment is young people. But, you may have to concern about the quality of the final products. Even though we offer you an affordable price, the results were not below standard. In general, a good souvenir should gives a professional impression to the consumer or target market we are aiming at. Even though the price is low.
With these various advantages explained above, you can be sure that the rubber band is one of the right products for you to use for school events, campaigns, reunions, etc.
Our Custom Rubber Wristband Quality
Rubber wristband is a very cheap and popular products. Some manufacturing companies may proclaim more design options, some will offer lower prices, some will claim to use the best materials and so on. There are several manufacturers who only care about the price of their products. In this case, you have to be more careful because companies that only focus on the price, usually pay less attention to the products' quality.
Low prices are usually related to the low quality of the rubber band material used, the size of the rubber band and the result that the rubber band is not in accordance with the wishes of the customers. To reduce this risk, it is better if before placing an order, ask for samples of rubber band products that have been made. After you order a rubber band with a certain design, the manufacturer will re-do it before mass production. An order will be made in advance of one or two samples of rubber bands according to the given design. After you agree, then production will be carried out for the total order.
You can do all those processes with us! Our company is proofed to have a variant design of wristband with a high quality rubber material at an affordable price. Please contact us to discuss, get samples of our products and get a special price for the custom rubber wristband you.
Types of the Rubber Wristband
We will provide you with custom rubber wristband with the slogan, logo or image according to your design. Then, you will have an original promotional item that no other companies have. These custom bracelets are most often used by clients as a promotional item at trade fairs, exhibitions, concerts and also fundraising events. Generally, you can choose the type of this bracelet from our offers and get a good promotion for your business
Embossed Lettering Rubber Band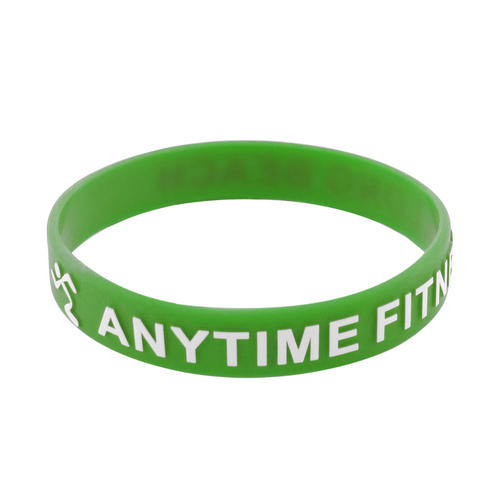 The embossed, extruded look really sets your message apart. We create a special mold for every embossed job so the results are extremely sharp and professional. The letters are part of the wristband and will not fall off.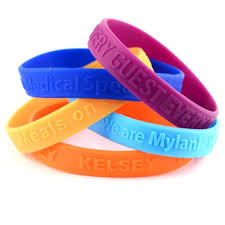 Embossed Picture Rubber Band
Just as the embossed lettering rubber wristband, this type of custom band offers you an embossing motif as a part of the band.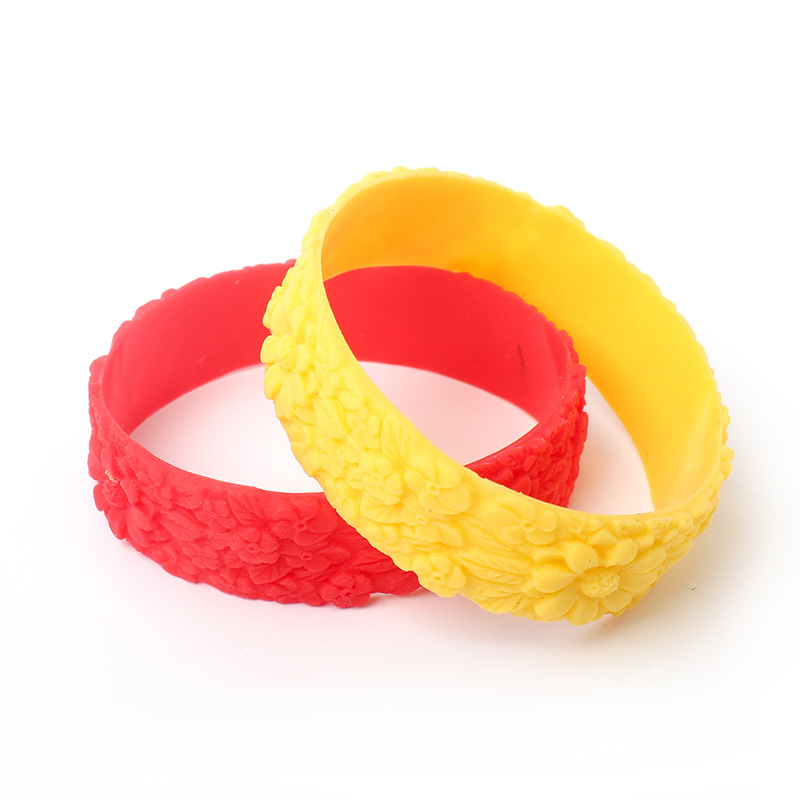 With this option of embossing a picture, you can customize the wristband as you wish. Since there is no limitation of creating the picture. The embossing picture also can cover the whole part of the band. Make your promotional embossed picture rubber wristband stand out among other!
Screen Printed Text Wristband
The screen printed text wristband comes with multi-color choices. We provide a Pantone color options where you can place your order in almost any possible colors! No matter what is the color of your company's brand or organization, we ensure you that the color option is available. The attractive color will certainly attract the surrounding attention!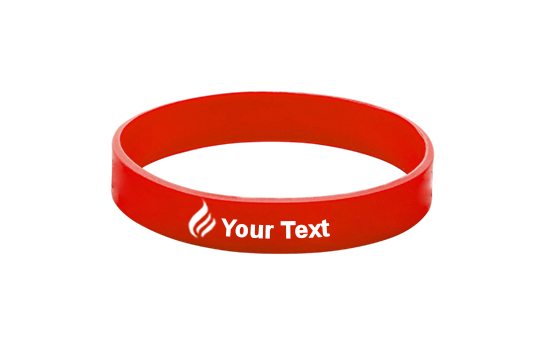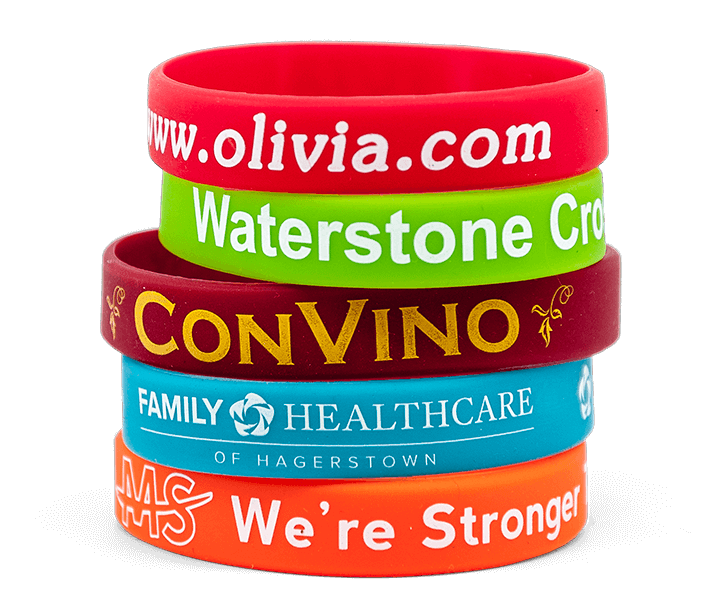 You can also choose to have your picture printed on the custom rubber wristband. Please contact us for the detail information of the screen printed picture wristband.
Glow in the Dark Custom Rubber Wristband
Promote your company or organization even when the dusk comes! Our custom glow in the dark rubber wristband is very suitable for outdoor activities such as concert or festival.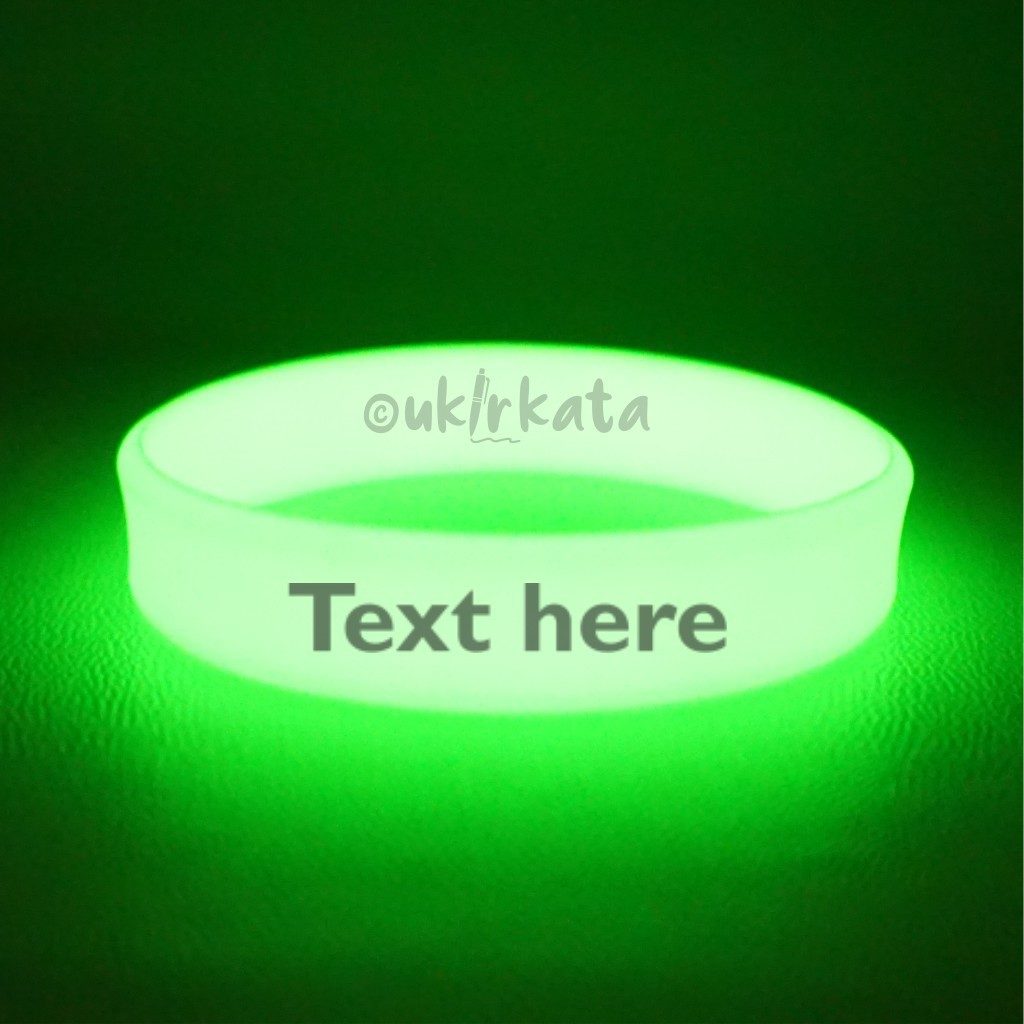 Debossed Lettering Rubber Band
Debossed rubber bracelet is a type of rubber band by embossed the inward with a variety of inward writing.
You can also use this product extensively as a way to promote the product or campaigns. Many political parties use this type of bracelet to attract public attention.
This type of bracelet is relatively the cheapest price because the manufacturing process is simple so that the production process is faster than an embossed bracelet or a button bracelet.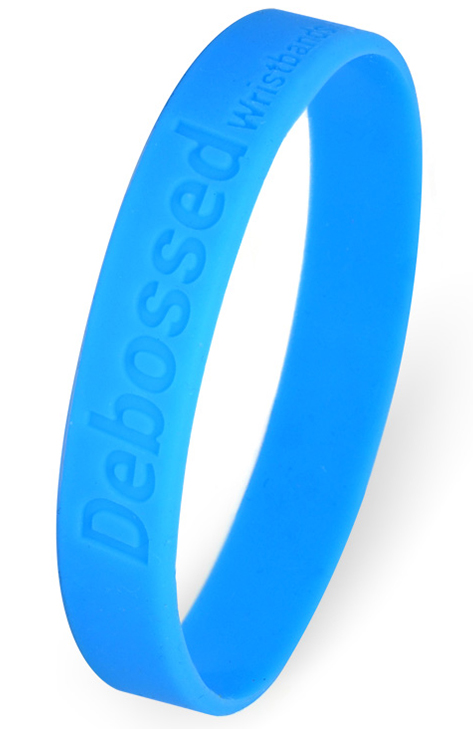 Our custom rubber wristband minimum order is 100 pieces. They will also be packed per 100 pieces. However, the rubber bands can be delivered individually, in a transparent plastic box or in a bag. It's all up to you.
We are a manufacturer that can produce the wristbands in almost any sizes including a wide-sized one. Most wristbands come in the standard size as:
7 to 8.5 inches circumference
5 to . 7.5 inches width,
1 inch thick.
Grab your promotional custom rubber wristband now!
Make sure to have an attractive promotional item as a gift for your customers . A custom advertising rubber wristband is a right option! We are not only providing this advertising item but also any other promotional things according to your order.
So, are you interested in our offer? Do not hesitate to contact us for a price offer by email: info@predmetyreklamni.eu
For our other products, please check it here. For finding any ideas of promotional items can be seen here.
In the price request, please state the necessary information for the price offer such as : the quantity, the color, design and delivery time. All this information will help us to promptly process the price offer just for you.
Custom-made silicone products
Custom Silicone Silicone Bracelets.

Here, we sell high quality, 100 % silicone personalized wristbands for all events and occasions. Our silicone bracelets are affordable and ready for you to customize. With our custom options, you can inscribe any message, art, logo, or brand onto the color wristband of your choice.
There are no minimum or maximum orders, so whether you need one or a million cool, custom silicone bracelets, we are more than happy to provide!
With various wristband styles and types, our affordable wristbands make perfect promotional items to show support for a team, advertise for a brand, promote a cause, commemorate an event, or publicize an affiliation!
More importantly, our affordable custom wristbands are popular items to help raise awareness! Check out our blog to learn more about all the causes we support.
Easy, Fun, and Fast – Design Wristbands in Minutes Online

Take our band builder for a spin and create the perfect bracelet right on our website. Our design tool allows you to preview your creation before checking out. It's simple and faster than ever. We offer a huge selection of unique wristbands and keychains, from our Classic debossed style with an etched imprint, to our custom printed wristbands, allowing for even more detail on your design.Whether you're looking to promote your company or organization with an engraved logo, a fundraiser or an awareness cause, we've got the bracelets for you with designs on display elsewhere in the industry.
Some uses of custom rubber bracelets
Our 100% silicone, non-allergenic, latex-free customized rubber bracelets are an ideal promotional tool, an artistic way to express yourself, raise awareness, champion causes, fundraise for charity, support your favorite team, brand your business, and a creative outlet for so much more!These personalized rubber bracelets are especially popular on special occasions, you can wear them on many occasions from boardroom to classroom, on birthday parties, family reunions, to show school spirit, and in remembrance of personal feelings and causes close to your heart.
A worldwide trend, customized silicone wristbands adorn the hands of celebrities, athletes, musicians, politicians, soccer moms, cool dads, and kids of all ages. Make a statement with these long-lasting, custom rubber bracelets, and create an impact with your words. Some prominent causes customized rubber wristbands have aided include breast cancer, AIDS, anti-bullying, patriotic causes, fundraisers for school proms and band equipment, team pride, and church functions. Customized silicone bracelets have been a cheap yet effective way to campaign, support, fundraise, raise awareness, promote, and show pride.
Essay Development :
Key words: parts silicone, industrial components silicone, industrial moulds silicone…
Targeted public : research laboratories, Promotional agencies, Distributors, Stakeholder, small businesses and all kind of corporations that are interested in this industry and that can be helpful for developing our strategies (suppliers, manufacturers, even competitors ..).
Packaging is very important. The fact that everywhere you look, something is protected by some sort of packaging just shows us how much it is a part of our lives. Packaging is used to protect a variety of different products. You can find a wide range of shapes and sizes, all designed for different purposes
Our main products:
Components are fabricated on semiconductor wafers (commonly silicon) before being diced into die, tested, and packaged. The package provides a means for connecting it to the external environment
industrial components silicone:
Silicones is used in sealants, adhesives, lubricants, medicine, cooking utensils, and thermal and electrical insulation…
industrial moulds silicone:
After a product is designed, usually by an industrial designer or an engineer, moulds are made by a mould-maker (or toolmaker) from metal, usually either steel or aluminium, and precision-machined to form the features of the desired part, from the smallest components to entire ones.
Packaging pharmaceutical products is a broad, encompassing, and multi-faceted task. Packaging is responsible for providing life-saving drugs, medical devices, medical treatments, and new products like medical nutritionals (nutraceuticals) in every imaginable dosage form to deliver every type of supplement, poultice, liquid, solid, powder, suspension, or drop to people the world over.
An example in the pharmaceutical industry:
Packaging is the set of different components that surround a pharmaceutical product from the time of production until its use.
Through research and development (R and D), engineering, operations, purchasing, marketing, or the general administrative department of a company is Packaging important. For the majority of products produced in pharmaceutical industriesit is probably the single largest aggregate purchase made by a company of materials critical to the protection, distribution, and sale of the product.
Functions of Packaging
Containment
Protection
Presentation and information – Packaging is also an essential source of information on medicinal products. Such information is provided by labels and package inserts for patients.
Identification – The printed packs serves the functions of providing both identity and information.
Convenience
Key Advantages:
Recycled matter;
Environmental friendliness;
Strength + Style
Durability + less weighted
SILICONE BRACELETS MANUFACTURER
Base Production from Silicone Bracelets Manufacturer
One of the most important things for the silicone bracelets manufacturer is to create accurate moulds with customer's requirement specifications.
Silicone Bracelets Manufacturer Moulds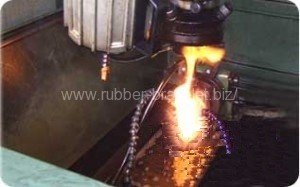 Mould production: you can see on this page how the final mould finish with the laser by the silicone bracelets manufacturer. This is very important step for silicone bracelets manufacturer. Moulds for silicone bracelets manufacturing must exactly follow customers requirments.
Silicone Bracelets Manufacturer Moulds Production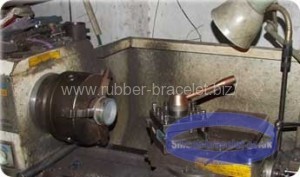 The model (mould) machine is one of the most important tools in the silicone bracelets manufacturer factory. This mould machine is what to make a plain mould into a debossed or embossed mould for later use.
Silicone Bracelets Manufacturer Finished Mould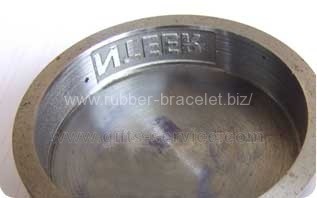 This is a debossed silicone bracelets manufacturer finished mould which allows the silicone to set and then removing the finished band.
Silicon Bracelets Manufacturer Customers Moulds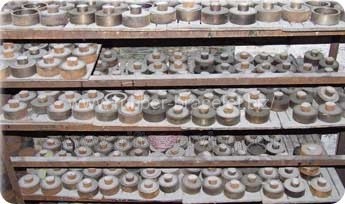 We will keep all mould of our customers for future use. Customer should pay mould charge only once . That is how we save cost for them.
Are you interested in silicone bracelets made from manufacturer?Contact us for more details. We are looking forward to cooperation.