CUSTOM MADE SNAP HOOKS
Custom Made Snap Hooks for Your Promotion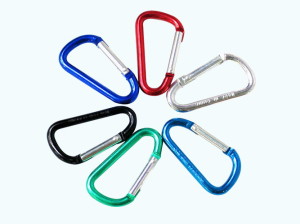 Custom snap hook or Carabiners are always ovular, oblong, or pear-shaped metal clips with spring or locking screw gates. They are commonly used in mountain and rock climbing, repelling, sailing, tree climbing, fire and rescue, and industrial work like construction and window washing. There are several different types and grades of carabiners and rating standards for safety. Our custom snap hooks also called accessory carabiner used for rigging and similar purposes but not required to meet the certain standards for life support.
Custom Snap Hooks Video
Our range of carabiner and custom snap hooks is inexpensive, and handy even around the house, workshop, or office. Many people use our custom snap hooks for key rings or hammock rigging, or for hanging tools. They are also used for waterski lines, camping equipment, and a multitude of other applications due to the versatility of our karabiners. But please remember our brightly colored custom snap hooks are intended for simple uses that do not require safety considerations.
Custom Snap Hooks for Advertising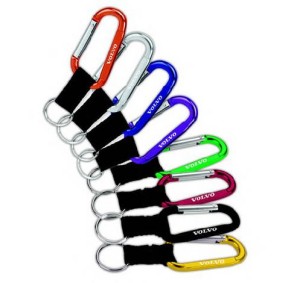 Custom snap hooks are a great company marketing and branding tools, when they have been engraved or lasered with your company logo, message or brand. Custom snap hooks make unique giveaway items at trade shows and around the office or shop. No matter what the nature of your business is, there's is a custom snap hook product that is perfect for your company.
Custom Snap Hooks as Promotional Gifts
You and your customers don't have to be mountain climbers to love snap hooks. Designed after real climbing snap hooks, these small replicas feature a spring loaded gate for attaching to straps and loops. The gate mechanism opens with pressure and springs closed when released allowing snap hooks to hold and be attached to various objects. Many people use a printed snap hook as a keychain. Large ones can accommodate several key rings. Smaller sizes easily clip to pocketbook straps or belt loops.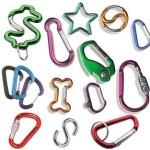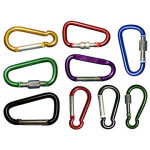 Below listed points fully state why we are stronger and would be your right choice to choose working with us.
* Free samples / only transportation fee.
* 15 days delivery time after order confirmed at min order basic.
* Low min order at low price.
* Professional and free graphic designer to help with your artwork.
* Custom ability to make the items special and only to you.
* Always give best idea for your project.