PROMOTIONAL HOUR-GLASS
Hour-glass as Original and Unique Promotional Gift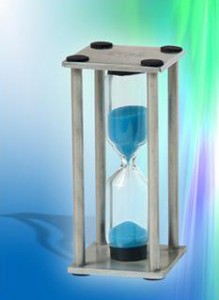 A hour-glass is a non-mechanical instrument that is used to keep time. The hour-glass usually measures the passing of an hour, though individual hour-glass can be designed to measure different units of time. Some hour-glass measure just a few seconds, while others measure minutes and some even measure days. However, it has nowadays become really a great idea for trade show gift and convention give-a-ways. We have been making this kind of gift hour-glass for worldwide clients and assure giving you a quality gift hour-glass at great prices for promotion purpose to boost your brand cognition.
How Works Promotional Hourglass?
A promotional hour-glass consists of two glass bulbs placed one above the other which are connected by a narrow tube. One of the bulbs is usually filled with fine sand which flows through the narrow tube into the bottom bulb at a given rate. Once all the sand has run to the bottom bulb, the device can be inverted in order to measure time again.
Our promotional hour-glass is often constructed out of glass, as its name denotes, but it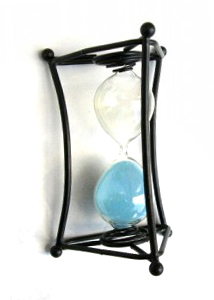 can also be made of plastic. The frames or housings for hour-glass can be made of wood, glass, metal or plastic. The different designs of hourglass frames or housings are endless, ranging from simple to ornamental with everything in between. Raw materials most often can be crafted or carved to suit a particular style, decor, design, or theme. Bamboo, resin, and various metals like brass, bronze, and pewter are also beautiful framing materials.
Sand is the most complex of the components of promotional hour-glass. Not all types of sand can be used because the grains may be too angular and may not flow properly through the neck of the hourglass. In addition, the sand in our promotional hour-glass can be made in different colors so the sand in the hourglass can be chosen to match room decor or some other color preference.
High Quality Promotional Hour-glass
As a leading and experienced promotional hour-glass producer, we have been in this industry for years. With a professional production line, we specialize in processing a variety of promotional hour-glass.
Depending on sophisticated production technology and management experience, we ensure that every process from raw materials to final finished promotional hour-glass is in strict accordance with operating procedures and strict quality inspection. Therefore, our product qualification rate is comparatively high.
We insist on providing high quality promotional hourglass before the deadline and persist in "reasonable price, prompt delivery" to win the trust of our customers.
A sincere hourglass maker welcomes you to stay here and allow us to say thank you while looking forward your email or call.