CUSTOMIZED PAPER LANTERNS
Customized Paper Lanterns
Customized paper lanterns are made of premium quality rice paper and bamboo ribs. In most cases, customized paper lanterns have an insert for light bulbs, thus paper lanterns can be either battery powered or connected to a central plug with string.
Unique styles, shapes, sizes and colors are available for customized paper lanterns, making them advertising tools, that carry your brand name, logo or any text to be seen by everyone.
Some customized paper lanterns require a single socket cord or electrical cord kits for multiple lanterns. All lanterns are sold without electrical cords, which can be purchased separately.
Please see section : "Light Cords for Lanterns"
Customized Paper Lanterns with Irregular Ribs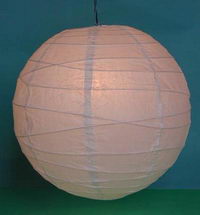 Round customized paper lanterns with irregular ribbing. Lantern is held open with a "C" hook wire expander.
In white and natural colors, with irregular ribs, these customised paper lanterns range in sizes between 8″ to 42″. These lanterns would look great at your wedding or party.
Available in custom made colors
Minimum order : 2000pcs
Production time : 25 days
Round Customized Even Ribbed Paper Lanterns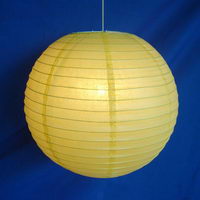 Round customized paper lanterns with even ribs are held open with a wire expander. Customized paper lanterns range in sizes between 8″ to 42″. Customised paper lanterns would look great at your wedding or party.
Available in custom made colors.
Minimum order : 2000pcs
Production time : 25 days
Print Customized Paper Lanterns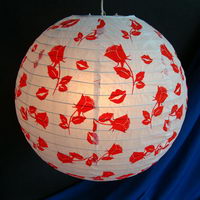 Print customized paper lanterns with even ribbing, also called Chinese paper lanterns are made of quality rice paper. Available in sizes between 8″ to 42″ and with lights inside, suitable both for home use and party decorations.
Available in custom made colors.
Minimum order : 2000pcs
Production time : 25 days
Cocoon Customized Paper Lanterns for Weddings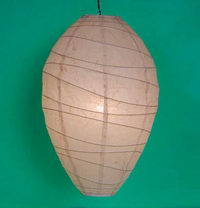 Made of quality rice paper, these white customized paper lanterns have freestyle bamboo ribbing in size 50cm high x 35cm diameter. We have both LED lights and electrical cords for use.
Available in custom made colors.
Minimum order : 2000pcs
Production time : 25 days
Square Ribbed Customized Paper Lanterns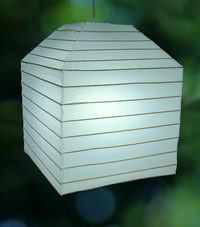 Made of quality rice paper, these customized paper lanterns have even bamboo ribbing in size 30cm high x 35cm wide. Any pattern can be custom printed rather than just white paper.
Available in custom made colors.
Minimum order : 2000pcs
Production time : 25 days
Bamboo Ribs Customized Paper Lanterns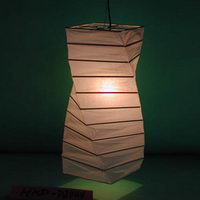 Made of quality rice paper, bamboo ribbed paper lantern is available in size 40cm high x 15cm wide. It is very good for home decoration.
Available in custom made colors.
Minimum order : 2000pcs
Production time : 25 days
Customized Cylindrical Paper Lanterns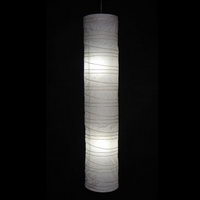 Made of quality rice paper, cylindrical paper lantern has freestyle bamboo ribbing in size 100cm high x 20cm diameter. It is very good for home decoration.
Available in custom made colors
Minimum order is 2000pcs
Production time is 25 days
Customized Paper Lanterns with Special Shape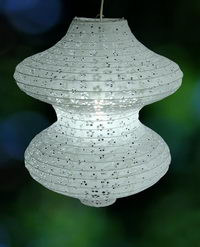 This customized paper lantern is in a special shape with a floral eyelet pattern, in size 38cm high x 35cm wide. You can use it with our LED bulbs or normal bulbs to lighten up for your guest in special occasion.
Available in custom printing and size
Minimum order is 2000pcs
Production time is 25 days
Star Customized Paper Lanterns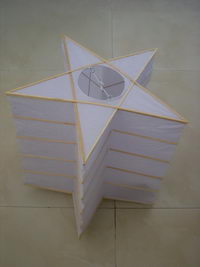 Made of quality rice paper, star customized paper lantern has even bamboo ribbing in size 40cm high x 30cm wide. It is very good for home decoration.
Available in custom made colors
Minimum order : 2000pcs
Production time : 25 days
Haloween Customized Paper Lanterns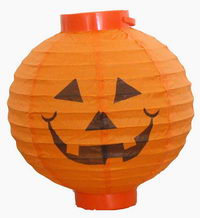 Made of quality rice paper, each customized paper lantern includes efficient light bulbs using batteries at the bottom. Use them as table centerpieces or hang them on tents and trees.
Size ranges from 8"D to 12"D.
Available in custom printing
Minimum order : 2000pcs
Production time : 25 days
Festive Customized Paper Lanterns

Made of quality rice paper, this custom made festive lantern will be your best choice for party decorations. Hang our Halloween paper lantern in your haunted house for extra fun.
Available in custom printing.
Available in custom made colors.
Minimum order : 2000pcs
Production time : 25 days