PROMOTIONAL SILICONE BRACELETS
All About Promotional Silicone Bracelets
Welcome to our pages and find all about promotional silicone bracelets!
Why promotional silicone bracelets?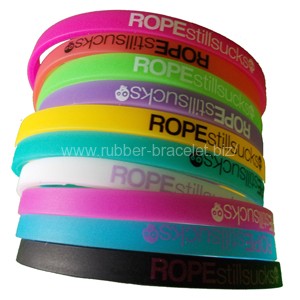 Silicone bracelets are hugely popular among young people, particularly the promotional silicone bracelets with a trendy slogan impressed in the silicone. They are very comfortable to wear for the summer and winter weather. There are different types of promotional silicone bracelets like debossed, embossed, printed, and interlinked, uv reflective, glowing in dark, 1inch wide, slim, adult or child size and more. They are a great promotional product, gift, fundraiser or way to pay honor to a special cause. It is used mainly for promotional activities like trade fairs, fundraising, raising awareness, and as a business promotion.
[aio_button align="right" animation="pulse" color="red" size="small" icon="none" text="SILICONE BRACELETS PRODUCTS >>>" target="_blank" relationship="dofollow" url="http://giftsservice.com/custom-made-silicone-bracelets/"]
Promotional Silicone Bracelets Product Video
Check the video below and see how can be produced your promotional silicone bracelets. On the video we introduce you promotional silicone bracelets we produced for our customers.
Silicone Bracelets as Promotional Gifts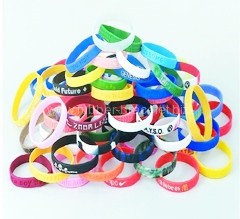 Promotional silicone bracelets are popular and cost-effective items to increasing your brands awareness, celebrating special events, giveaway at tradeshows, or to raise awareness about your product or service. Our promotional silicone bracelets are using 100% silicone which is a semi-inorganic polymer that is heat stable, flexible and water resistant and mainly hypoallergenic. Because of these qualities, we also have other products like silicone animal bands, silicone key chain, silicone cable winder and more. We are professional promotional silicone bracelets and gifts product supplier. We focus on quality of customized silicone bracelets and relative rubber products. All our customized silicone products are great value and are ideal as promotional items for marketing or fundraising campaigns, or as personalized gifts. You can't miss all these great promotional merchandising ideas.
Any question about product promotional silicone bracelets? Contact us!
Promotional Silicone Bracelets History
Silicone bracelets, also sometimes referred to as silicone bracelets, first came on the Lance Armstrong Foundation, founded in 1997 by world-renowned cyclist Lance Armstrong, designed and began selling them. The bright yellow silicone bracelets rose quickly to great heights of popularity. Much of the popularity arose because the silicone bracelets and the cancer foundation's programs were publicized on the widely watched Oprah show. Other charities, both large and small, soon entered the silicone bracelets market to bring awareness to their own causes.
Promotional Silicone Bracelets Future
It may be too early to say whether promotional silicone bracelets will continue to be popular fashion accessories, but it is fair to say that they have achieved a great deal in just a few years. Millions of dollars have been put to good use – simply because of the little silicone bracelets. You can just be so easy to find a ruber bracelet supplier to buy it online worldwide. But please assure that the promotional silicone bracelets supplier is reliable enough to purchase from.
Do not hesitate to contact our team for promotional silicone bracelets! We are looking forward to cooperation.