PROMOTIONAL BLOOMING TEA
Blooming Tea as Promotional Gift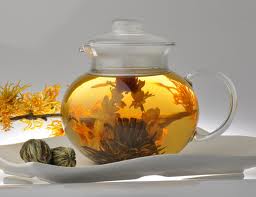 What is Blooming Flower Tea?
Flower tea is a tea which is packaged in a tightly furled ball which uncurls when the tea is placed in hot water, revealing a flower or fanciful scene created by the artfully arranged tea leaves. The blooming flower tea is available in several shapes including round, mushroom and oblong. Most flower teas are made with black, green, or white tea. And the tea flowers are available in a wide range including peony, lily, hibiscus, marigold, chrysanthemum and rose. Both flowers and tea are healthy and tasty.
Chinese Artisan Promo Blooming Tea
The making of flower tea is an old tradition that combines the beneficial aspects of herbal tea with the added attraction of watching dried flowers come to life when placed in heated water. Jasmine flower tea is one of the more popular plants to use, and the small flower buds create an interesting visual display as they release their fragrant and homeopathic essence. The art of making flower tea is a well-respected craft that has been handed down through many generations of Chinese artisans.
Promotional Blooming Tea and Flower Tea
Although tea is an ancient work of art, flower tea was recently developed. It first was created in China in the 1980s. And Chinese Flower tea has increased in popularity in the United States, Canada, Europe and Asia over the last decade. More tea drinkers are being drawn to the interesting, enchanting alternative that blooming flower tea offers. It was originally known as display tea (blossoming tea, artisan tea, artistic tea, art tea, crafted tea, hand-crafted tea, China special tea), because the tea has a unique decorative purpose.
Benefits of Drinking Blooming Tea
Drinking blooming flower tea is a simple way to make your life a little bit healthier. In combination with a good diet and plenty of exercise, you will soon feel much fitter and stronger. Flower tea can contribute to this, by helping you stick to your diet, and giving a little boost to your immune system. Drinking flower tea is thought to help strengthen you against colds and flu. There is even some evidence of a reduction in cancer rates among drinkers. Therefore, taking it as a supplement could have benefits that last the rest of your life.
Promotional Blooming Tea Simplify Benefits as Below
may help boost the immune system.
includes polyphenols which may help prevent the growth of certain cancers.
soothes the stomach and digestive system.
regulates blood sugar. Lower cholesterol.
contains 5-10% of the caffeine in a cup of coffee.
extremely high amount of antioxidants.
May reduce fine lines and wrinkles.
Excellent for skin and complexion.