PROMOTIONAL ANTISTRESS BALLS
Promotional Antistress Balls and Other Products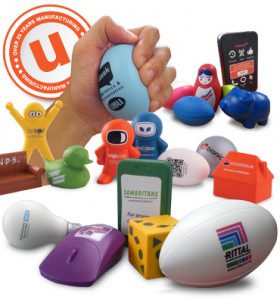 Promotional antistress balls are a big hit on the market of promotional items at the moment and are offered in a very wide range of shapes and colors. They easily attract the eye, have really low prices and offer a large area to print any logos, slogans or images. That's why we suggest that you contact us in order to create your ideal, customized specially for you antistress balls to distribute to colleagues and clients. Popularize your company and business with promotional anti stress balls.
Why Promotional Anstistress Balls?
With the increasing fast-paced life style now, more any more people feel big pressure especially the ones who work at office. They need to release. And our promotional antistress balls are a best choise for them. With the fast recovering feature and it's accepted by more and more poople.
novelty designs
very well shaped material – polyurethane foam (safe material: non toxic and soft for child)
wide usage – good as kids toy and promotional gifts for customers
any sizes and shapes (any OEM shape and size is welcomed)
highly resistant – can squeeze to resist compression
glossy surface and bright colors
solid with hand feel, squeezable
OEM logo printed on surface of ball
popular by children, and it's best choise for promotion
Promotional Antistress Balls and Products
Promotional antistress balls and toys are essential marketing products that any company can take advantage of using. We have a great selection of fun keyring antistress toys like the sheep antistress toy keychain, tyre anti stress ball keychain, little man stress toy keyring and the floating novelty anti stress keyring. Print your company information directly onto any of our promotional antistress shape products and show off your company at trade shows and conventions by using them as gift
bag merchandise products.