PIN BADGES MANUFACTURER
Gifts Service Your Pin Badges Manufacturer
We, as a leading pins badge manufacturer as well as a pins badges wholesaler, have manufactured numerous wholesale pins badges. Our solution-oriented philosophy makes our company different and stand out of the crowd. Base on this solid technical skill and capacity back up, we are able to offer high quality tinbutton andlapel pins badges to our customers. We as a leading pin badge manufacturer have manufactured numerous wholesale pin badges at great prices with our highly professional quality control system We are working right alongside you, optimizing production to find that perfect balance between aesthetic design and price.
About Lapel Pins manufacturer
Below shows you some of our steps of how to make pin badges.
About Diamond cutting of pins badge manufacturer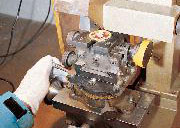 Diamond cutting is commonly applied on military coins. Both brass and zinc alloy coins can be made with diamond cut edges. The cutting edge on zinc alloy coins will be always the same finishing as coins because we do plating after cutting.
About Silk screen printing of pins badge manufacturer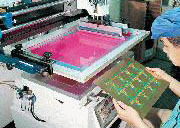 Silk screen printing process for manufacture of custom lapel pins is commonly used when an exact replica of logo's, corporate text, drawings and even photographs are required to be designed into the pin. We start by stamping the basic pin to your design shape, and plating it to your specific requirement. Then the silkscreen image is printed directly onto the top of the lapel pin.
About Die struck of pins badge manufacturer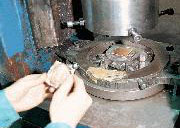 This is the die struck procedure. Die struck pins begin as a simple sheet of metal plating in the color of your choice. A custom die is created for your design then stamped onto the metal. This leaves an impression on the sheet. To bring out the details of your die struck lapel pins, the recessed areas are sandblasted to give contrast. Then, if you desire, the pins are polished to a high luster.
About Epoxy covering of pins badge manufacturer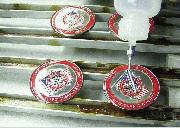 Most printed pins are epoxy covered. For soft enamel materials, epoxy is optional, such as die struck brass with soft enamel or Photo Etched soft enamel or die struck iron soft enamel, epoxy are optional. You can choose thick or thin epoxy, such as epoxy dome means thick epoxy or flat epoxy means thin one.
About Surface polishing of pins badge manufacturer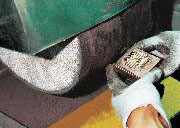 This is the process for polishing to make sure the metal parts are shiny. Only 2D designs will be polished by this way. 3D cubic designs will be polished by hands only.