MULTIFUNCTION PRINTED LANYARDS
Multifunctional Printed Lanyards
Nowadays, printed and multifunction lanyards straps continue to grow in popularity as a convenient way to hold and display an ID card as well as other small objects. We have designed a few types of multifunctional printed lanyards to carry other common objects like whistles, pocket watches, cell phones, cameras, water bottles and more to give our clients more choice.
Major security concerns have dictated their use from schools to government agencies. In addition to their object-carrying function, don't forget printed lanyards offer one competitive tool for advertising business and individual names, logos and messages.
For a complete selection of multifunction lanyards, printed lanyards at best wholesale prices, please browse below information.
Multifunctional Printed Lanyards as ID Card Holder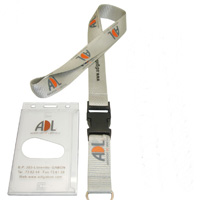 Printed lanyards come in many colors and feature sharp logo prints, so are great for general promotion, conferences and events and for holding ID.
Material: Nylon
Size: 2cm x 90cm
Logo: Screen printing
Accessories: Metal hook
Min Order: 500pcs
Multifunctional Printed Lanyards as Water Bottle Holder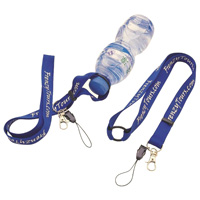 A special rubber o-ring holder fits snuggly around plastic water bottle necks. Great to have when engaged in outdoor activities. We have lots of other design for water bottle holder lanyards, too.
Net Weight: 18g/PC
Material: Cotton material
Size: 2cm x 90 cm
Logo: Screen printing logo
Accessories: Carbiner hook + Mobile attachment + Adjustor + Rubber O ring
Min Order: 200pcs
Multifunctional Printed Camera Lanyards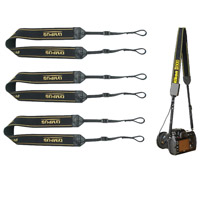 Camera printed lanyards are designed to keep camera from not coming off in some special activities. It's convenient for taking special photos in time.
Material: Polyester
Size: 4cm x 60 cm
Logo: Woven logo
Accessories: Adjustable buckle
Min Order: 2000pcs
Multifunctional Printed Lanyards with Elastic Pouch and Earplugs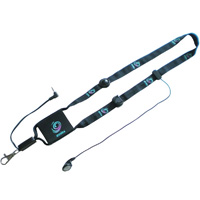 Multifunction and printed lanyards are fashionably designed with elastic pouch and earplugs, convenient for walking or listening to music. We offer high quality printing and competitive price, fast delivery.
Material: Polyester
Size: 1.5cm x 90cm
Logo: Screen printing
Accessories: Elastic pouch (5cm x 5cm) + Metal hook
Min Order: 200pcs
Multifunctional Printed Lanyards for Cell Phone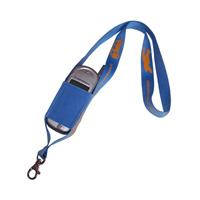 To secure the cell phone to the printed lanyard string, simply put cell phone into the elastic cell phone holder.
Material: Polyester
Size: 2 x 90cm
Mobile phone holder size: 4 x 5cm
Logo: Screen printing
Accessories: Metal hook
Min Order: 200pcs
Multifunctional Printed Lanyards with Pouch for MP3/MP4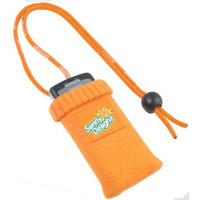 This round printed lanyard with pouch is a convenient way to carry your ipod/mp3/mp4 or mobile. PVC or woven label can be made on the pouch.
Material: Polyester + Cotton mixture
Lanyard Size: 0.5 x 90 cm
Pouch Size: 5 x 55 cm
Net Weight: 25G/PC
Accessories: Attachment + Carabiner + Adjustor
Min Order: 100PCS
Multifunctional USB Printed Lanyards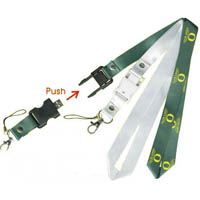 USB printed lanyard is very more convenient in work and life to keep USB in plastic buckle. And screen printing with high quality& competitive price.
Material: Nylon
Size: 2.5cm x 10+90cm
Logo: Screen printing on 1 side
Accessories: Metal hook + Phone attachment
USB Chip: From 512GB to 16GB
Min Order: 100pcs
Multifunctional Printed Ruler Lanyards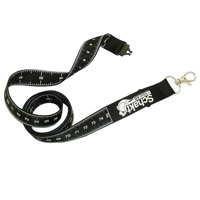 Printed ruler lanyards to keep ID cards, ID badges / keys etc, also it's ruler and convenient to measure with CM and INCH.
Material: Nylon
Size: 2.0 cm x 90cm
Logo: Screen printing on both sides
Accessories: Metal clip
Min Order: 200pcs
Multifunctional Printed Lanyards as Glasses and Sunglasses Holder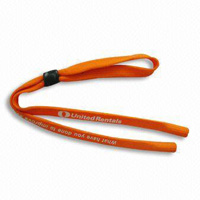 Some of our printed lanyards designed to stop glasses and sunglasses coming off in some special activities. Beautiful printed lanyards can be customised with vivid patterns.
Material: Tubular polyester
Size: 1.25cm x 30cm for one side
Logo: Screen printing
Accessories: Plastic adjustor
Min Order: 200pcs
Multifunctional Printed Lanyards with Integrated Watch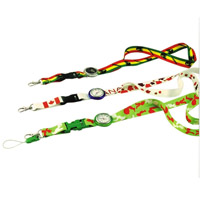 Watch Dial is integrated into printed lanyards with breakaway safety strap. Bottom attachment is available with lots of choice to hang key, badge, cell phone and more.
Material: Tubular polyester
Size: 2x 80cm +10cm
Logo: Screen printing
Accessories: Breakaway buckle + clock + any lanyard attachment
Net Weight: 35G/PC
Min Order: 200pcs