LANYARDS MANUFACTURER
Lanyards from Manufacturer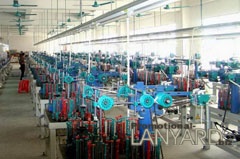 Specialized in manufacturing, designing and selling a wide variety of branded lanyards, our product range includes cell phone lanyards, elastic straps, fashion belts, pet leashes and advanced computer embroidered straps and more coming on.
Professional Lanyards Manufacturer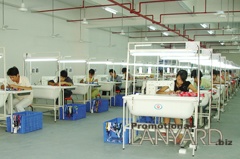 Over the past years, we dedicated ourselves to production innovation, facilities updating, and staff training, sales and marketing. Many company and business group already use our branded lanyards for all kinds of occasions and we got very good feedback from our customers also regarding to our quality and price.
Lanyards Manufacturer and Custom Production
The method used for creating the two lanyard loops depends for the most part on the material being used. For cord and soft ribbon-like materials such as light weight polyester and cotton, the loops are formed by squeezing a metal crimp on to the material with the two ends meeting inside the crimp. For most woven nylon webbing material from 3/8" to 1.0" the two loops are formed by stitching the overlapping two ends together. This type of stitch is known as a bar tack – a straight zig-zag stitch across the width of the material.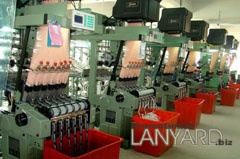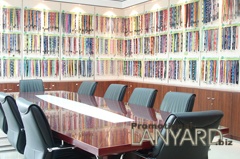 Machinery for manufacturing lanyards ranges from light to heavy-duty and from manual to automatic. For large scale crimp lanyard manufacturing a foot press fitted with metal stamping dies to hold the crimp is usually necessary. Lanyards manufactured from nylon webbing use either an industrial bar tack machine or computer controlled models capable of stitching a variety of different patterns which can be selected from a user operated control panel. Both types of sewing machines are capable of varying the length of the stitch which is important for materials with different widths.