FLAGS AND BANNERS MANUFACTURER
Flags and Banners Manufacturer
All flags manufacturer produce from high quality components and are hemmed all around. Most flags are usually finished with a strong headband complete with polyester rope and wooden toggle or clip ready to fly, subject to client specification. Flags may also be finished with a sleeve for a pole, brass eyelets or Inglefield clips.
Promo Flags and Banners Manufacturer
All flags are manufactured in the traditional way like "mirror image", flags reading correctly to the front side and a perfect mirror image to the reverse. We are also making double sided flags (reading correctly to both sides), perhaps also with a light barrier interlining, on client request.
Flags and Banners Manufacturing
Flags and banner manufacturer has a professional flag banners production line to make your own flags or banners. Manufacturer commonly use screen printing and digital printing for flags and banners manufacturing.
Make Screen Printing on Flags and Banners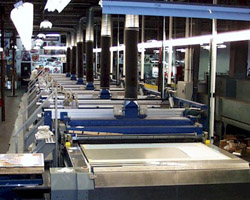 Screen printing is a conventional way when it comes to printing flags and banners. Screen printing uses screens as stencils to directly imprint ink onto the fabric. The original design is printed onto a screen and a different screen is needed for each color which is used in the design. Once imprinted, the fabric of the flags absorbs the ink, fusing the design and the flag banner into one entity. Screen printing is usually used for larger orders.
Digital Printing Maker on Flags and Banner
Digital printing is often used for complex designs. Digital printers can easily print a picture onto a flag or banner without having to create different screens for each different color. Digital printing is often used for smaller orders.
Steaming
Putting the imprinted flags into the steam vessel with high temperature fixes the pigments to the fabrics. This process assures colorfastness.
Washing
This step is to wash the flags and banners with hydrosulphite.
Sewing
Sew sleeves onto the dried flags. The flags are then finished with brass grommets at the hoisting end or with other accessories. Sewing can be customized according to clients' specifications.