Custom metal pins & medals
A metal pin or medal, also known as a lapel pin, is a small pin that people are wearing attached to clothes. Usually on a purse, or on a piece of fabric. Pins may be decorative or show the wearer's association with a cause or group. Further in this article, we will talk about the purpose and different kinds of pins. In the end, we will describe how you can get personalized custom pins and medals.
Purpose of metal pins
Metal pins are tokens of accomplishment and belonging. Members and non-members enjoy collecting the organization's pins.
Businesses, corporations, and political parties are also using badges to recognize accomplishment and membership.
Wearing a pin or a medal clearly indicates that you value something or are a member of a specific organization. In other words, you're proud to be a part of, a fan of that unique thing.
Types of pins
There are various types of pins in souvenir and premium attributes. Basically, icons have several groups by type and functional purpose.
Materials of custom medals/pins can be:
Metal
Plastic
Leather
Textile
Rubber
Customize your own medal!
Choose any design and theme for the pin you want. There's no better way to reflect your brand or organization than custom pins and medals. As well as to honor champions, or celebrate the achievement of employees with personalized pins. Let's take a look at some examples of how you can personalize your medal:
Want to create fun supportive medals for your team? No problem! Using this easy way you can choose any design and any motto for your pin.
Your promotion and great memories
Medals and metal pins easily can become your promotion strategy. You can use them for example in advertising, publicity, and for branding purposes. Bright, individual, enticing – those are the requirements for a good advertising campaign.
However, it is not the only way they can come in handy. You might as well create personalized badges as a gift. Thus, it will always remain as a genuine memory which you can take everywhere.
WHAT IS CUSTOM METAL PINS & MEDALS AND HOW IT WORKS ?
Custom Metal Pins & Medals are small wearable art objects, usually made of metal. They have a design on both sides and serve a ceremonial purpose of some sort. Custom Metal Pins & Medals come in a variety of sizes and shapes. It has a variety of medallions ranging from large to small, as well as small plaques or plaquettes.
The primary reasons for awarding Custom Metal Pins & Medals, to recognize achievement, to install confidence, and to foster a forward-thinking learning environment. Also, to boost team and individual motivation. After a presentation or performance, awarding someone with a medal or trophy. It can boost confidence with positive reinforcement. This can be linked to a variety of performance factors.
Why to choose Custom Metal Pins & Medals ?
Customized Custom Metal Pins & Medals can help your organization or event in a variety of ways, including:
Differentiate yourself from other contests and events.

Assist with name recognition.

Awards with a high perceived value

Offer one-of-a-kind custom medals that can be collected to communicate the exact message you want others to see.

Assist attendees in differentiating your event/team from others.

Extend your brand for media attention and recognition.

Help attendees distinguish between your event/team and others.

Extend your brand for media highlights and recognition.
CATEGORIES :
Custom Cheering Team Games Medals

Rugby/Hockey/Race Metal Pins

Football Metal Pins

Lapel Pins
Custom Cheering Team Games Medals
Cheering Games Medals are always a good choice if your design is in full colour or black on the front. Custom Award Medals is the right choice if you want a perfect, personalized medal to recognize a special event or achievement. These award medals provide a striking contrast of a black design on a gold, silver, or bronze medal with your own custom artwork and logo in the centre. To create your own truly personalized award, use your own design or one of our hundreds of free stock designs.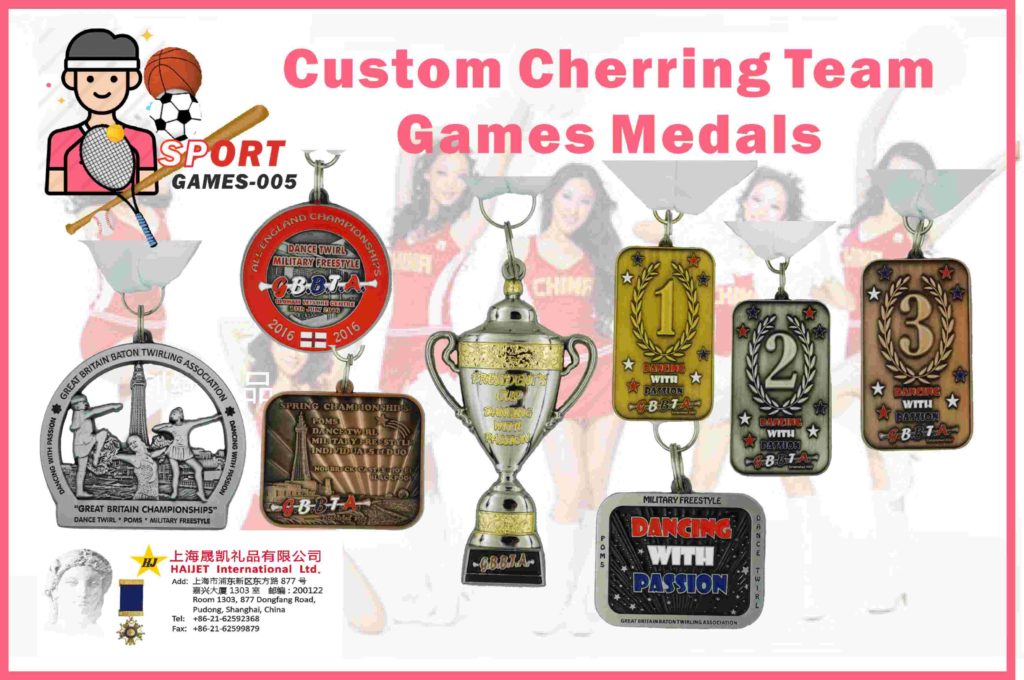 Rugby/Hockey/Race Metal Pins
Metal sports pins have a long history in the sports world. Sports Metal Pins are also ideal collectibles, as young athletes trade pins to add to their ever-growing collection. Gifts Service has a large selection of custom sports pins, which make an excellent gift for any member of a team. You can also purchase sports pins to recognize outstanding individual achievements.
Hockey Metal Pin
A hockey pin is a unique way to demonstrate your love for the game. Hockey pins come in a variety of styles in producing high-quality hockey pins for all. These hockey pins are also valuable collectibles, making them an ideal accessory to trade with other avid pin collectors. If you are considering purchasing a lovely hockey metal pin.
Rugby Metal Pin
Rugby pins are quite popular in minor leagues all across the country since they are a great thing to collect. Gifts Service has a large selection of rugby pins in a variety of styles to meet your needs. If you want a Rugby Metal Pin, Gifts Service promises you're happy to buy.
Race Metal Pin
Whether at the high school, collegiate, or international ( Olympic ) level, racing is one of the most competitive sports. Through designs from Gifts Service, using Race Metal pins is a terrific way to thank each team's hard work. Race Trading Pins come in a variety of styles, and Gifts Service can assist you in selecting the ideal design.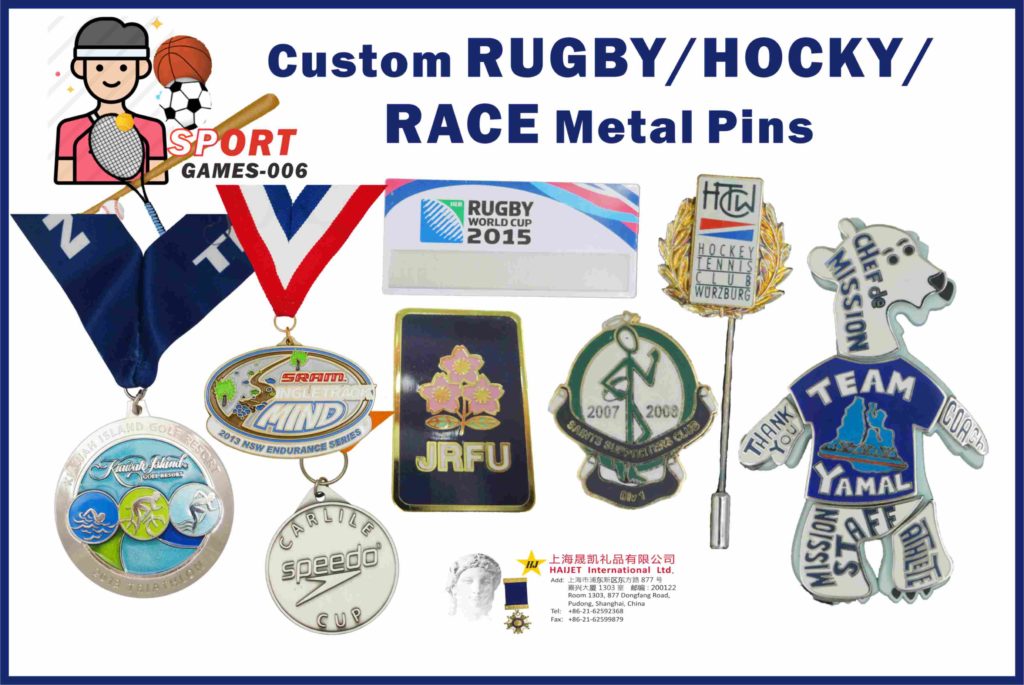 Football Custom Metal Pins & Medals 
Metal pin trading in football is becoming increasingly popular as a fun way to show off your team's logo while meeting new people. Because football is one of the most popular sports in the world, whether it is for kids, high school, college, professional level, or Olympic level, pin trading in competitions demonstrates a high level of sportsmanship. These high-quality football pins from Gifts Service are also a great game-day accessory that promotes team solidarity while maintaining a stylish appearance.
Fans express their gratitude in a variety of ways with these football metal pins. Some have a favourite team's hat or jersey, while others have entire rooms filled with team memorabilia. Pins are a great way to demonstrate your support for a team or the sport of football in general. We can make pins with any football-related design you may think of, whether it's a team logo, a mascot, the team's hometown, or a snapshot of the full team. People can wear the pin to show their support for their favourite team, and it can also serve as a good discussion starter. When you encounter someone else wearing the pin, you know they're a fan of the same team as you, giving you something to chat about right away.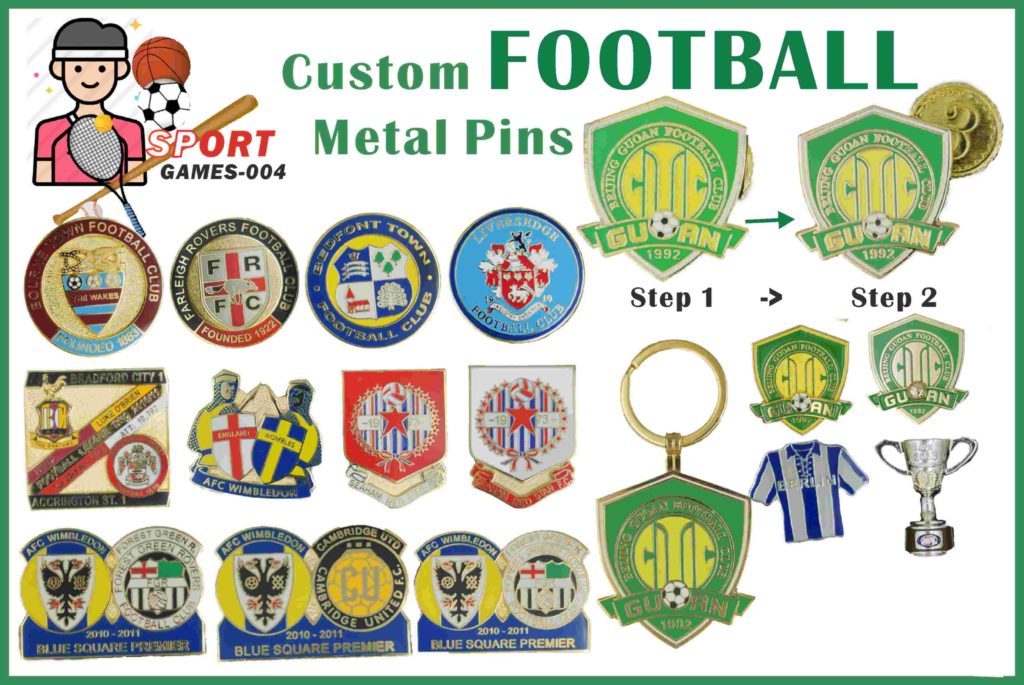 Lapel Pins
The square part on both sides of your suit jacket, just below the collar, is the lapel pin. It's folded back on either side of your breast pocket's front opening. Follow this conventional lapel pin etiquette if you're not sure where to put suit lapel pins. They are available in a number of shapes and sizes. It can be worn with anything from staff uniforms to team jerseys.
Various types of lapel pins :
Company/Firm Pins
Lapel pins are an important way to get noticed and connect teamwork, whether you are a member of a corporation or police enforcement. Lapel pins can be used to reward employees for exceptional performance or to commemorate team enthusiasm during sporting events. You can also wear your company's lapel pin to boost staff productivity and reinforce your brand's identification.
Police/Army Pin
It demonstrates your patriotism, and if you've been in the military, you may use pins to connect with veterans and other service members. Seeing another person wearing a comparable military lapel pin also brings you closer on a personal level. When displaying critical information, lapel pins also enhance awareness about your police station. Your neighbourhood will feel safer knowing the precinct number and location of their local police department as a result of this.
Sports Lapel Pin
These pins are an excellent way to honour a professional or school sports team while also uniting the players and fans. They boost team spirit, encouraging players to collaborate in order to win. It's also a cost-effective way for motorsports, soccer, and rugby teams to receive pins. You can include their team logo and slogans, the players can cooperate and brainstorm the design.
Education Related Lapel Pin
Schools and universities benefit from educational lapel pins. Schools and universities can personalize them to include the emblem of the school, the student's name, and the academic discipline. Furthermore, educational pins, with their colourful designs and colours, It us usable by any student-led initiative to increase awareness.
Employee Pins
You can have lapel pins in a variety of colours, sizes, and designs depending on your brand identification and needs, as each job or business is unique in its own way. It boosts their morale because when employers express their appreciation for their employees, they are more inspired to perform better and more loyal to your company.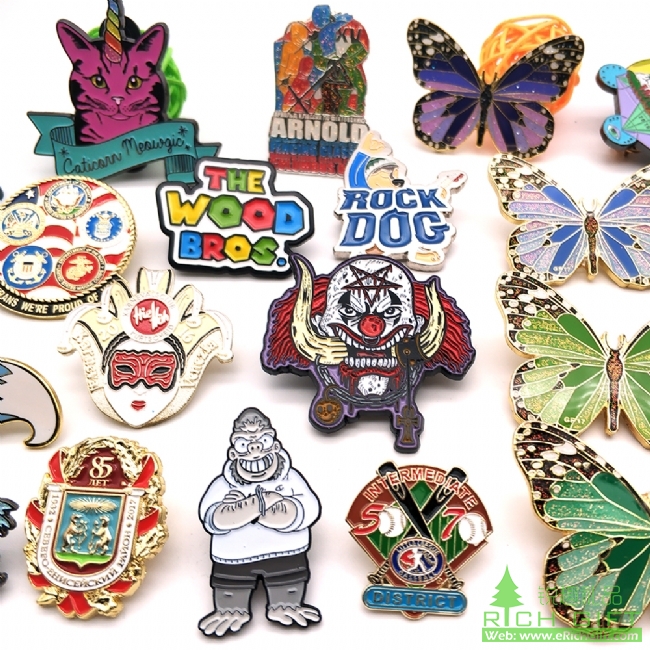 Please click here for useful links
Our offer

Pin collecting and trading have become common hobbies in recent years. Pin designs of iconic characters and themes are in high demand. We offer you the possibility to create your own design. Of course, we will guide you through the process.
Many clubs, sports teams and other institutions collect and trade pins just for their own. Moreover, you can make a limited quantity and at a low-cost thanks to fast manufacturing processes.
In the picture below, you can see examples of our work for the football team's pins.
Don't wait, place your order!
You can simply send an application for the desired design via email: info@predmetyreklamni.eu. We will definitely offer a solution.
For the customized order please include such details as size and quantity. You can consult with us in case of any questions.
The price depends on the quantity and quality of your pin, for further information, please visit our webpage or write us an email!
You can check out our website catalog for already premade medals and pins.
Custom Made Metal Lapel Pins
As is shown below, we, a real lapel pins manufacturer can provide you with a wide array of inexpensive lapel pins and quality lapel pins for promotion or any event. More sizes and designs are available and contact us to discuss your special requirements or custom made lapel pins.
Custom Made Hard Enamel Lapel Pin
Hard enamel lapel pin is also called cloisonne lapel pin which is the most expensive one among the other materials' pins because of the complicated procedures, sophisticated skills and time consuming during production.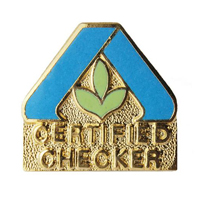 Material: Copper
Dimension: 60mm*60mm
Thickness: 1.4mm
Min Order: 300pcs
Custom Brass Stamping Lapel Pin
It's an ideal option for those who demand more smooth and glossy metallic surface and details. There must be metallic line to separate each color. In case no coloring is required on the brass stamping pins, antique plating and sand blasting will be an ideal finish to match.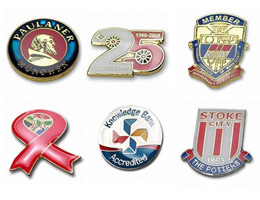 Material: Brass
Dimension: Dia 55mm
Thickness: 1.4mm
Min Order: 300pcs
Custom Made Imitation Hard Enamel Lapel Pin
Imitation Hard Enamel is also named soft cloisonne or synthetic cloisonne. It replaces parts of the hard enamel pins because of similarity to hard enamel with lower cost, fast delivery time and much more colors to choose from. They are bright, smooth and shiny.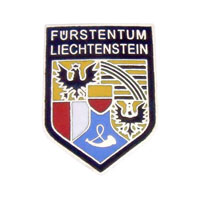 Material: Copper
Dimension: 48mm*55mm
Thickness: 1.4mm
Min Order: 300pcs
Custom Made Zinc Alloy Gold Lapel Pin
This lapel pin is designed with all gold color and is geared toward the motivation and rewarding of team members, employees, and other recipients.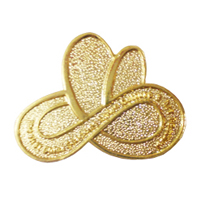 Material: Zinc Alloy
Dimension: 48mm*38mm
Logo: Gold
Min. Order: 300pcs
Custom Made Metal Logo Lapel Pin
A logo lapel pin, small as it is, has a huge impact on an employee, a client, a member or even a group. Let this logo lapel pin present your custom design showing of your organization at its best.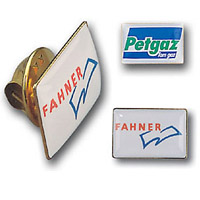 Material: Brass
Dimension: 58mm
Logo: 2 colors
Min. Order: 300pcs
Custom Recognition Lapel Pins
Give your employees the custom recognition lapel pin to let them feel appreciated. Your employees will stay loyal and keep working hard as their efforts are recognized.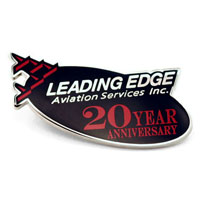 Material: Iron
Dimension: 75*45mm
Logo: 2 Colors
Min. Order: 300pcs
Custom Awareness Ribbon Lapel Pin
A custom ribbon lapel pin is a great way to increase awareness of social causes. Wearing this lapel pin shows one's support and also makes a person a member of a group.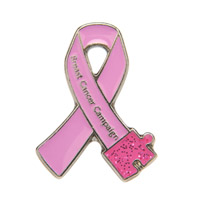 Material: Copper
Dimension: 70mm
Logo: 2 Colors
Min. Order: 300pcs
Custom Flag Lapel Pins
Presenting your imprinted national flag lapel pin to your clients to show your appreciation as well as your patriotism is a great promotion idea.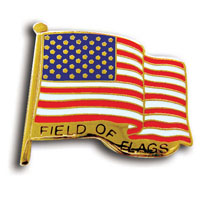 Material: Zinc Alloy
Dimension: 70*50mm
Logo: Full Color
Min. Order: 300pcs
Custom Military Lapel Pins
Give away our promotional military lapel pins that convey dignity and respect in your sales campaigns.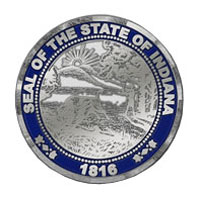 Material: Iron
Dimension: Dia 58mm
Logo: 2 Colors
Min. Order: 300pcs
Custom Soft Enamel Challenge Coins
Traditionally, challenge coins were issued to battalions as symbols of camaraderie and unity. As time went by, the "challenge" of the challenge coin signified the ability to show your coin as a means of verifying membership in a club, group, or military unit.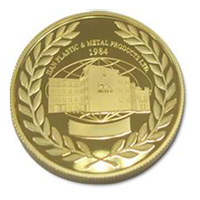 Material: Copper
Dimension: Dia58mm
Logo: Gold
Min. Order: 300pcs
What are the custom metal pins & medals?
Metal pins are custom metal pins which are made in the shape of your favorite character or something else. They are usually made out of iron or zinc alloy. People are mainly using the pind and medals used for the decoration or the collection purposes. We offer these custom metal pins with a variety of design and shape.Our customers can use metal pins for advertising, political campaigning, club and organization membership, and other situations. They should wear the custom metal pins in the specified location where others can see it. We offer these custom metal pins in various sizes and shapes.
Who can use the custom metal pins ?
People can use the custom metal pins and medals for a lot of purposes. Some of them are the advertisement, the political campaigning ,the club and the organization membership, the decoration , the collection purpose and so on. Can i order these custom metal pins? Yes you can! We offer these custom metal pins with a variety of design and shape. You can customize your own custom metal pins now.
What are the features of the custom metal pins?
There are many places where the custom metal pins use. People can make their friend by giving them these pins. The custom metal pins can be ready by using advanced machines and hence they are used as advertising items. The custom metal pins are made using advanced machines and they are used as promotional items. They are also using for identification purposes.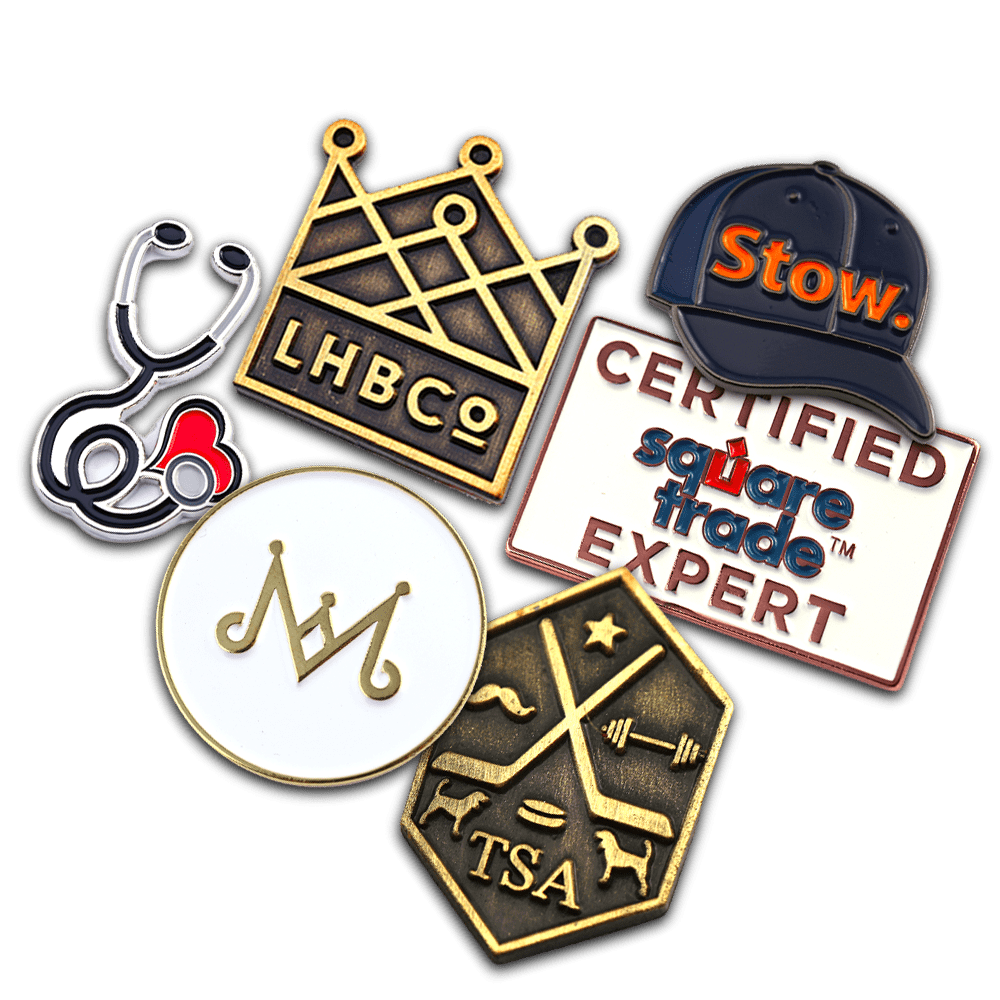 How to Make Custom Metal Pins and Medals
Making custom metal pins and medals can be a lot of fun. If you're looking for a unique gift for a special occasion, like a graduation, wedding, or a birthday, a custom metal pin or medal will be perfect. No matter what the occasion, there are a lot of choices when it comes to custom metal pins and medals. You can choose an award style pin, or you might want to design your own medal. Both way, the process is the same.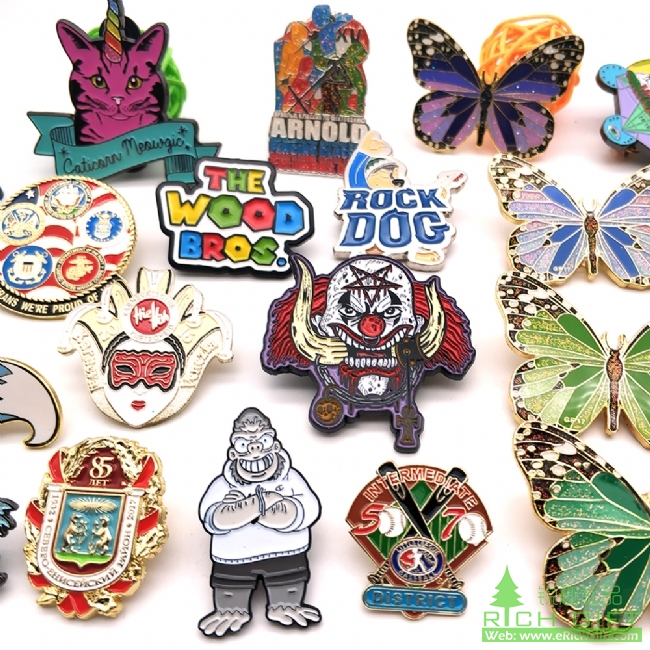 How to Design Your Pin or Medal
Whether you're designing a pin or medal, the first thing you have to decide is what size you want it to be. There are lots of sizes available, but one of the most common is 1.25 inches. The size of the metal will depend on how big you want the pin or medal to look. The metal size can determine by the diameter, which is the distance across the middle of the pin or medal. For example, a 1.5 inch pin will have a diameter of 1.5 inches. You can also have your custom metal pin or medal with a different shape. The most common shape is round, which is 1.5 inches in diameter, but you can have custom metal pins and medals in lots of different shapes, like square, oval, or rectangular.
Our Offers
What are the sizes of the custom metal pins?
We offer these custom metal pins in 1″, 1.5″, 1.25″, 1.75″, 2″, 2.5″, 3″, 3.5″, 4″, 5″, 6″, 8″, 9″, 10″, 12″, 15″, 18″, 24″, 30″, 36″, 40″, 48″, 54″, 60″, 72″, 84″, 96″, 120″, 144″, 168″, 192″, 216″, 240″, 288″, 360″, 420″, 480″, and 576″.
What are the common shapes of the custom metal pins?
We offer these custom metal pins in a variety of shapes . Some of them are :
Round
Square
Triangle
Rectangle
Star
Heart
Circle
 What are the common metal colors of the custom metal pins?
We are offering these custom metal pins in different colors. Some of them can be listed as yellow brass, red brass,b ronze.silver ,gold,white brass.copper ,plain brass,gold-plated brass and so on.
Grab Yours !
If you want to have good quality custom pins and medals , you can check it out our designs or you can mail us what kind of product you are looking for. Click here to see more design.
If you are interested in our products or offers and you want to work together just reach us through this email : info@predmetyreklamni.eu
You can check all different kinds of products by clicking here.
PIN BADGES MANUFACTURER
Gifts Service Your Pin Badges Manufacturer
We, as a leading pins badge manufacturer as well as a pins badges wholesaler, have manufactured numerous wholesale pins badges. Our solution-oriented philosophy makes our company different and stand out of the crowd. Base on this solid technical skill and capacity back up, we are able to offer high quality tinbutton andlapel pins badges to our customers. We as a leading pin badge manufacturer have manufactured numerous wholesale pin badges at great prices with our highly professional quality control system We are working right alongside you, optimizing production to find that perfect balance between aesthetic design and price.
About Lapel Pins manufacturer
Below shows you some of our steps of how to make pin badges.
About Diamond cutting of pins badge manufacturer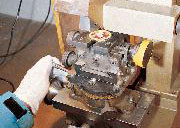 Diamond cutting is commonly applied on military coins. Both brass and zinc alloy coins can be made with diamond cut edges. The cutting edge on zinc alloy coins will be always the same finishing as coins because we do plating after cutting.
About Silk screen printing of pins badge manufacturer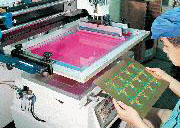 Silk screen printing process for manufacture of custom lapel pins is commonly used when an exact replica of logo's, corporate text, drawings and even photographs are required to be designed into the pin. We start by stamping the basic pin to your design shape, and plating it to your specific requirement. Then the silkscreen image is printed directly onto the top of the lapel pin.
About Die struck of pins badge manufacturer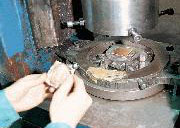 This is the die struck procedure. Die struck pins begin as a simple sheet of metal plating in the color of your choice. A custom die is created for your design then stamped onto the metal. This leaves an impression on the sheet. To bring out the details of your die struck lapel pins, the recessed areas are sandblasted to give contrast. Then, if you desire, the pins are polished to a high luster.
About Epoxy covering of pins badge manufacturer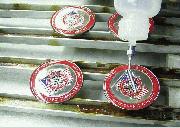 Most printed pins are epoxy covered. For soft enamel materials, epoxy is optional, such as die struck brass with soft enamel or Photo Etched soft enamel or die struck iron soft enamel, epoxy are optional. You can choose thick or thin epoxy, such as epoxy dome means thick epoxy or flat epoxy means thin one.
About Surface polishing of pins badge manufacturer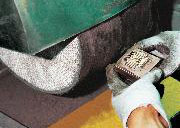 This is the process for polishing to make sure the metal parts are shiny. Only 2D designs will be polished by this way. 3D cubic designs will be polished by hands only.