We will make custom-made tattoos for you
Leave the traditional advertising and try something brand new! Try custom-made advertising tattoos to attract your customers. They will certainly remember the original and fun experience that they will experience with advertising tattoos. You can hand out tailor-made tattoos at trade fairs, promotions, or pack them with your product. We can produce a wide range of custom-made advertising tattoos for you. From mini tattoos to tattoo sleeves and tattoos over the entire back.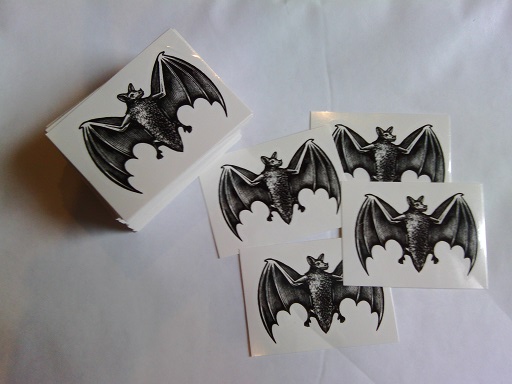 Minimum quantity: 300-1000pcs (depends on the size of the tattoo, small dimensions e.g. 5x5cm from 1000pcs)
Tattoo design: tailored to your specification
Delivery time: 19 days
Size: from 3x3cm – 35x48cm
Material: Eco paper for advertising tattoos, PET film, Ink
Type: from solid to full-color graphics, UV tattoos, metallic tattoos – gold, silver,…., tattoos that glow in the dark, sticky tattoos without the use of water
FAQ about Custom-made Advertising Tattoos
We produce tattoos for you in such a wide range of sizes and styles that you will be amazed at what is possible. Custom-made advertising tattoos are suitable for children and adults. If you are interested in tattoos covering the area of the arm or back. We also provide a small size custom-made advertising tattoos up to the size of 35x48cm.
Approximate price of tattoos with full-color printing and large-scale delivery starts from 0.098,- NZD.
The price does not include VAT.
For an accurate calculation, do not hesitate to contact us using the form below, or by e-mail: sales@giftsservice.com
We are looking forward to collaborating with you. Team Gifts Service
We are offering temporarry promotional tatoos . If you are looking somthing more serioius you might be interested in this .
Custom-made advertising tattoos
Tattoos are cheap!

If you compare tattoos with other promotional items, such as mugs or T-shirts, you'll find that tattoos are much more profitable and efficient. Nowadays, where most companies save their costs to produce items, it's important to consider how big a budget you'll release to produce promotional items. And tattoos have a very good performance ratio vs. price. Especially with a large number of orders, there will also be significant quantity discounts that we provide on tattoos.
custom-made advertising tattoos
Tattoos are easy to adjust!
Unlike other promotional gifts, tattoos offer you the possibility of many different variations. Whether you want to change colors, font, or design, tattoos are easy to customize. You can put any graphic or image on the tattoos. Thanks to these unique features, tattoos for advertising are easy to be made!
Custom-made children's tattoos
Who didn't love tattoos as a child? Colorful images can be easily printed on the skin and give such a fun feeling for everyone for a very long time. Gather children and young people with tattoos! Tattoos are waterproof and last at the unusually long time!
Among the usual types of advertisement, tattoos act as a fresh wind. Tattoos are clearly the latest and most interesting among the promotional items. By combining a modern color design and a creative idea, you will get the original promotional items that will attract the attention of anyone who sees it. Order custom-made tattoos and you will win the competition!
Glittery advertising tattoos
Shimmering or glittering tattoos don't try to emulate normal permanent tattoos, but they look as great as normal ones! With the help of these advertising tattoos, people will be dazzled. All the girls and ladies will be amazed and attracted to print tattoos on their skin immediately.