CUSTOMIZED LANYARDS
Customized Lanyards Materials
Our customized neck lanyards are typically made of polyester, nylon, or cotton and are of flat braid tubing. We also have PVC and silicone lanyards for options. This style of customized lanyards provides ample flat surface area for the placement of names, logos, slogans, or symbols. We also provide customized eco friendly lanyards that are made of recycled materials and biodegradable corn and bamboo fiber. An eco lanyard becomes a good choice for eco earth friendly purpose. And you can find special and interesting zipper lanyards here too.
Customized Lanyards Materials Offer
Browse below materials sample and let us know which one you are interested. Customized colors for lanyards are available according to Pantone colors. Minimum order for customized lanyards is 3000pcs. Or we will use our stock color for your customised logo lanyard.
Polyester Customized Lanyards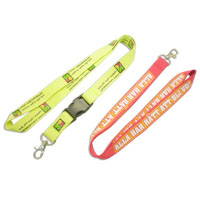 Polyester customized lanyards are a great value, the best choice as for cost and performance. These customized lanyards allow for printing highly detailed silk screened images of logo and text. Material: Polyester
Size: 2cm x (10+80) cm
Logo: Screen Printing
Attachment: Metal Dog Hook+Plastic Buckle
Min Order: 100pcs
Customized Lanyards with Logo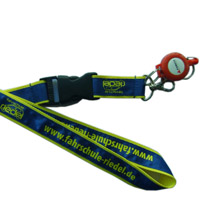 Logo customized lanyards with satin lace are a lightweight material with a slightly shiny appearance. These satin customized lanyards can be screen printed with your corporate logo.
Material: Satin sewn on polyester
Polyester Size: 2.5cm x (95 +10)cm
Satin Lace Size: 2cm x 95 and 10cm
Logo: Three color foam paste printing on one side
Attachment: Metal Hook+Fasten Lock+Badge Reel
Min Order: 100pcs
Customized Printed Nylon Lanyards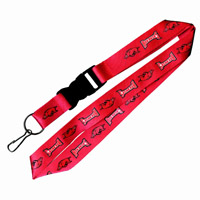 Customized nylon lanyards offer a very lightweight and flexible alternative to traditional lanyards. They are of one of the most low-cost customized printed nylon lanyards!
Material: Nylon
Net weight: 26g/PC
Size: 2cm x 90 cm
Logo: Silk screen printing, 2 colors and 1side printing
Attachment: Metal Hook
Min Order: 100pcs
Customized Lanyards with Bamboo Fibers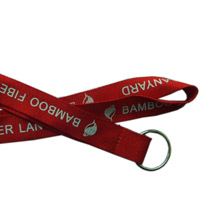 These customized lanyards made from bamboo fiber are the perfect way to show your customers that you are committed to environmental sustainability.
Material: Bamboo fiber Stock Colors
Net Weight: 9g/PC
Logo: Offset printing
Size: 2 x 90cm
Attachment: Metal Ring
Min Order: 100pcs
Customized Lanyards Made of Eco-Friendly Fibers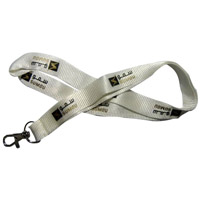 Made from bio-degradable corn fiber, we offer hundreds of attachment options as well as spot for these customized lanyars.
Material: Corn fiber
Net weight: 26g/PC
Logo: Silk screen printing, 2 colors on the lanyard and on 1 side
Size: 2 x 90cm,
Attachment: Metal Hook
Min Order: 2000pcs
Customized Lanyards with Printing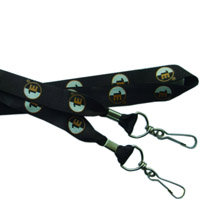 Manufactured from 100% recycled PET, this material provides a crisp printing on customized lanyards and is available in a variety of colors.
Material: PET
Net Weight: 16g/PC
Size: 1.5 x 90 cm
Logo: Screen printing logo
Attachment: Swivel-Hook + Metal Bean
Min Order: 100pcs
Customized Cord Lanyards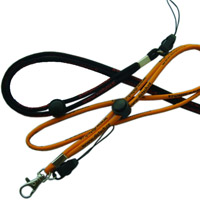 Made of 100% cotton, this customized cord lanyards are with screen printing logo. Woven logo is a good choice too.
Material: Cotton material
Net Weight: 12g/PC
Size: 0.5 x 90 cm
Logo: Screen printing logo
Attachment: Carabiner Hook + Metal Bean + Mobile Attachment + Length Adjustor
Min Order: 100pcs
Customized PVC Lanyards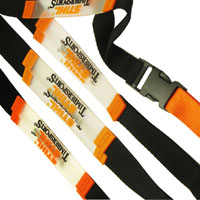 This customized neck lanyards are with printed logo on PVC, and then sewed on polyester. With a breakaway buckle, this customized logo lanyard is easy to release.
Material: Transparent PVC with logo and polyester
Size: 2cm x 90cm
Logo: Screen printing
Attachment: Breakaway Buckle
Min Order: 100pcs
Customized Lanyards of Synthetic Fiber Material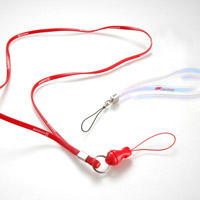 Customized synthetic fiber lanyards have a semi transparent look to them. These syntetic fiber lanyards are suitable for simple logos and text.
Material: PVC
Size: 0.7 x 90cm
Logo: Silk screen printing on 1 side
Attachment: Dog Clip
Min Order:100pcs
Silicone Customized Lanyards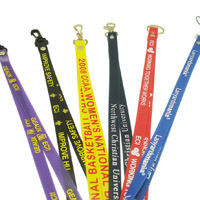 Made from 100% pure silicone, we can have your logo printed on thousands of customized lanyards. Quick turnaround time and low cost make our silicone customised lanyards one popular item.
Material: Silicone
Size: 1.2cm x 90cm
Logo: Silk screen printing or laser
Attachment: Swivel Hook
Min Order: 100pcs
Customized Zipper Lanyards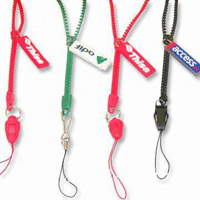 Our customized zipper lanyards have a polyester tag, which can be custom made to show your logo or brand name. Interesting customized lanyards and comfortable to use.
Material: Polyester and zipper
Size: 2 x 90cm
Logo: Screen printing or embroidery
Attachment:Zipper and mobile phone strap
Min Order: 100pcs