CUSTOM MADE LANYARDS
Custom Made Lanyards from Gifts Service
With usefulness, daily exposure and low cost, custom made lanyards are the perfect way to carry your message or brand. We have many popular of custom made lanyards to choose from, ranging in price, material and hardware attachments.
Our custom made lanyards are manufactured using imprinting methods, such as : hot stamping, screen printing and dye sublimation, heat transfer, foaming logo and more. We can produce printed lanyards according to any pantone color with quantity up to 3000pcs. If your order is as small as 100pcs or below 3000pcs, you can choose our plain lanyards in stock then have them custom made with your logo.
All custom made lanyards come with your choice of hardware attachment: o-ring, snap hook or bulldog clip.
Custom Made Lanyards with Logo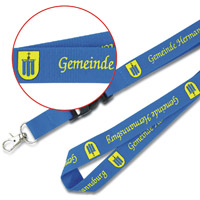 Screen-printing uses colored ink. Screen printed custom made lanyards are printed with one color each time using a mold. By far, it produces very economical custom printed lanyard of commercial quality.
Material: Polyester
Size: 2 x 90cm
Accessories: Metal Hook + Plastic Buckle
Min Order: 100pcs
Custom Made Lanyards with Gold Stamping Process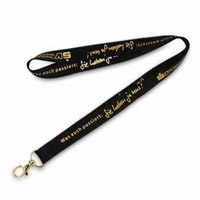 Golden stamping only uses one color and is the most affordable. Custom made lanyards are suitable for badges used by students or at trade shows.
Material: Polyester
Size: 2 x 90cm
Accessories: Thumb trigger in gold
Min Order: 200pcs
Logo: Bronzing in gold on one side
Custom Made Lanyards by Heat Transfer Printing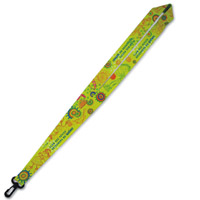 Our full color custom made lanyards use heat transfer printing to ensure the exact replication of the most intricate logos.
Material: Polyester
Size: 1.5 x 90cm
Accessories: Plastic Hook
Min Order: 200pcs
Custom Made Lanyards with Sublimation Printing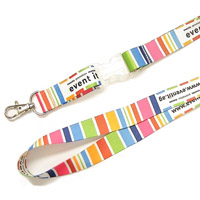 Sublimation printing is an offset printing process. Dye sublimation produces the most detailed and longest lasting image. It is also the most expensive technique, but you can have the best custom made lanyards for your nexr advertising campaign.
Material: Polyester
Size: 2.0 x 90cm
Accessories: Thumb Trigger
Min Order: 2000pcs
Custom Made Lanyards with Silver Stamping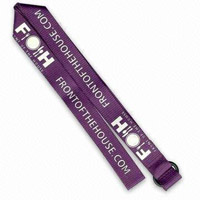 Silver stamping custom made lanyards are the most economical lanyards of this kind. Some limitations regarding imprint color and material combinations.
Material: Polyester
Size: 2 x 90cm
Accessories: Thumb trigger
Min Order: 200pcs
Logo: Silver imprint on one side
Custom Made Lanyards with Branding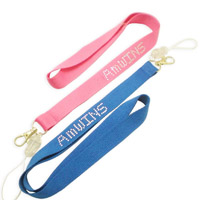 Inlaying strass with logo shape on custom made lanyards is a new style to display your text or information! Very glint and fashionable to use.
Material: Polyester
Size: 2 cm x 90cm
Logo: Strass inlay
Accessories: Metal Hook+ Mobile phone holder
Min Order: 200pcs
Custom Made Lanyards with Foam Printing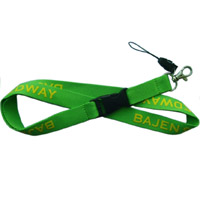 Custom made lanyards with foam printing are ideal for detailed print of logos for high-impact advertising.
Material: Polyester
Size: 2 x 80cm+10cm
Accessories: Carbine Hook +Breakaway Buckle +Mobile Strip options.
Net Weight: 22G/PC
Min Order: 100pcs
Custom Made Reflective Lanyards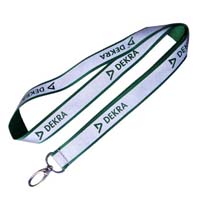 Custom made reflective lanyards are pre-printed with high quality 3M reflective ink to provide big area of reflection in the dark. Exceptional reflective quality is ideal for use when high visibility is a concern.
Material: Polyester
Size: 2 x 90cm
Logo: Screen printing
Accessories: Metal Snap Hook
Min Order: 200pcs
"Glow-in-the-Dark" Custom Made Lanyards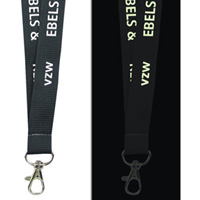 "Glow-in-the-dark" custom made lanyards are designed to make others aware of a person, to locate someone easily in the dark. They are great tools for joggers, night-time workers, or sporting events to increase visibility at night.
Material: Polyester
Size: 2x 90 cm
Accessories: Thumb Trigger
Min Order: 200pcs