CUSTOM MADE CLEANING CLOTHS
Custom Made Cleaning Cloth
We offer custom made cleaning cloths for your business promotion at great price.
Custom made cleaning cloth is a perfect promotional item that is handy and useful while promoting your brand. Printed full colour front and back using our special dye sublimation these custom cleaning cloths are excellent use on glasses and PC monitors and are guaranteed to stay with people for years
Custom Options For Cleaning Cloths
Material: different thickness and texture for personal budget and feel
Printing techniques: different skill and effect for personal budge and favor
Edging: standard sizes for current edging styles to save cost for options, while maintating customization ability.
Packing: different packing material for personal budget and favor
This custom made cleaning cloth is a cost-effective marketing merchandise as the cleaning cloth can be custom printed with lots of information in full colour with an once-off price.
Custom Made Cleaning Cloths Samples
Check out below sample display of cleaning cloth with custom request and contact us to get direct factory price and have them for your trade shows, marketing events or in-corporate campaign!
Custom Made Cleaning Cloth Stamping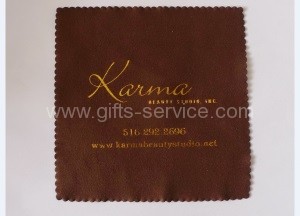 The custom made gold stamping cleaning cloth is made from suede microfiber which is more durable and easy to wipe dust. We have the stamping logo in siliver, red or blue color to make the best effect.
Material: Suede Microfiber
Size: 15x18cm
Minimum Order: 1000 pieces
Custom Made Cleaning Cloths with Printing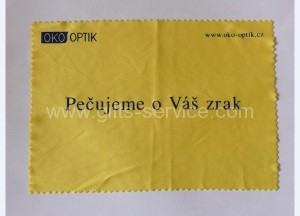 Printed by silk printing effect, this custom made cleaning cloths will bring you the perfect visual effect and soft touch feeling. Available for Pantone colours.
Material: 200G Microfiber
Size: 15x21cm
Minimum Order: 1000 pieces
Custom Made Cleaning Cloths Heat Transfer Printing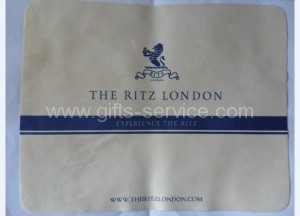 Using the heat transfer printing craft, the promo cleaning cloth looks warmer and softer. Made from 100% microfiber, the promo cleaning cloth can use for glasses, computer, phone, television, camera, etc.
Material: 200G Microfiber
Size: 19x24cm
Minimum Order: 1000 pieces
Custom Made Cleaning Cloth from 100% Microfiber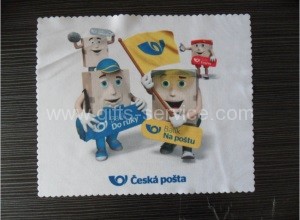 This heat transfer printing advertising cleaning cloth made from 100% microfiber. With fashion looking and comfortable material, advertising cleaning cloth has lots of fans for all the ages.
Material: 200G Microfiber
Size: 15x18cm
Minimum Order:1000 pieces
Custom Branded Cleaning Cloths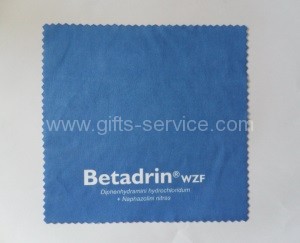 Branded cleaning cloth is using the heat transfer printing craft and made from 100% microfiber. Branded cleaning cloth can be printed any Pantone colours.
Material: 200G Microfiber
Size: 15x15cm
Minimum Order: 1000 pieces
Custom Made Microfiber Cleaning Cloth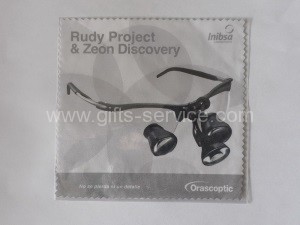 The heat transfer printing microfiber cleaning cloth is made from 100% microfiber. You can choose your own  logo printing on the microfiber cleaning cloth.
Material: 200G Microfiber
Size: 15x18cm
Minimum Order: 1000 pieces